THE Big V, spearheaded by a Frankston duo, took it up to Australia's other states at the National Paralympic 7-a-side Football Championships this month.
Frankston striker Matthew Holland and speedy youngster Oran Jones from Seaford played their part in the Victorian Paralympic Football team's bronze medal winning performances at the tournament hosted in Coffs Harbour.
The team, made up of young men affected by cerebral palsy or acquired brain injuries, fell just short of bringing the ultimate prize of the cup back to Victoria, but saw off the challenge of Western Australia 2-1, grabbed a 2-2 draw against champions New South Wales and an unlucky 0-2 defeat by Queensland in the group stages.
On day four of the tournament, the Vics overcame the disappointment of missing out on a cup final appearance by ending their tournament on a winning note with a 5-2 victory over Western Australia.
Matthew Holland said the team was pleased with its tournament despite not winning gold this year.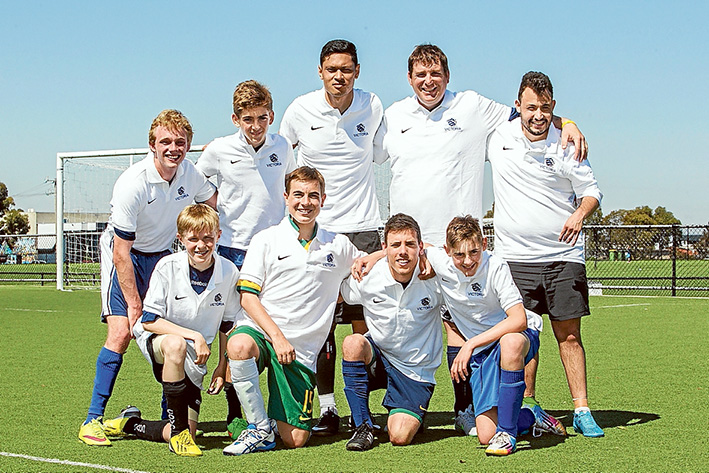 "The boys really bought into the coach's game plan and we just needed a positive result in that Queensland game and we would have been in the gold medal game – we played really well.
"Credit to all the boys, I thought we showed great character and we've got a great future ahead because a lot of the boys are really young and we've just got to keep working."
Team captain Ben Roche said the paralympic football program is still a work in progress but has Football Federation Victoria "have come on board now to bring it up to a more elite level".
"We have a development squad to which is with Northcote Football Club," he said.
"Teams we're competing against have gyms, training programs and proper boots and equipment and the travel costs each year are huge."
The skipper said the family of each player paid about $2500 each to send a player to the national tournament.
He welcomed any fundraising support for future tournaments to give the Victorian Paralympic Football team the best platform possible to win gold for the state.
Email Ben Roche at aaafootball@hotmail.com or call FFV on 9474 1800. He is also available to speak at schools to promote paralympic football to interested players.