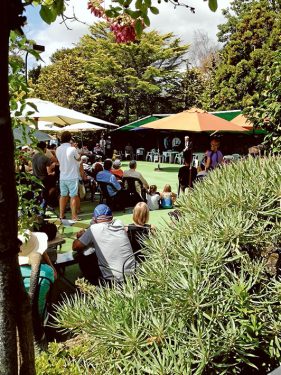 IT was an auction to warm an estate agent's heart: historic property, 200-plus crowd, and multiple bidders for each block.
And so the famed Earimil Gardens, in Koornalla Court, Mt Eliza, went under the hammer last week for the first time in 39 years.
The one hectare cliff-top property, with views over Port Phillip and Ranelagh beach, was sold by long-time charity fundraisers Reg and Elaine Smith in four lots – the largest being 4295 square metres – along with two properties across the road.
Agent James Crowder, of Community Real Estate, who was assisted by an auctioneer from Marshall White Real Estate, described the auction as part of a "fantastic Sunday".
"Interest seemed to grow in the lead-up and, by auction day, I had sent out 60 contracts," he said. "There was great competition and we had at least three bidders for each block."
Six blocks went under the hammer: the main home sold for $2.62 million, tennis court for $1.21 million, one larger garden block for $1.14 million, with the sale of the other still being negotiated. The original brick veneer over the road sold for $920,000 and a vacant block that served as a car park for $810,000.
"We encouraged Reg and Elaine to sell the lots individually and they are delighted with the results," Mr Crowder said.
"It is unique to find vacant lots in Mt Eliza and they were very popular.  All the buyers said they would retain as much of the gardens as possible."
The generous couple, aged in their early 80s, are expected to remain in Mt Eliza. Opening the gardens for charity each spring raised more than $1 million for children with life threatening illnesses over the past 23 years.