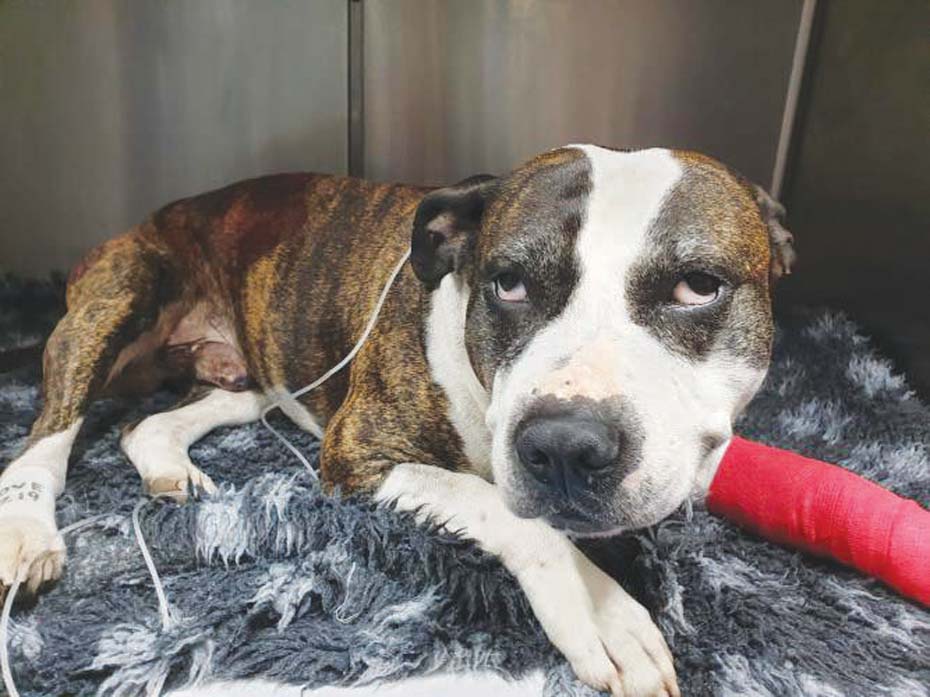 A GENEROUS outpouring of support has helped to save the life of a dog injured in a car accident last month.
On 19 July, a car collided with a tree in Langwarrin. Ambulance Victoria and CFA crews from Frankston and Langwarrin attended and rendered assistance to the man driving the car, before they turned their attention to injured American Staffordshire Ernie.
Ernie, seven years old, was rushed to hospital suffering from a ruptured spleen. CFA station officer Sam McDonald said the dog was found "motionless" in the back seat.
"I saw the dog in the backseat. He was awake, but totally motionless," Mr McDonald said. "Being a dog owner myself, I knew straight away that he wasn't well."
"The poor thing would've been thrown around the car pretty badly. He was getting extremely anxious seeing his owner walking away, so we lifted him out of the back seat and laid him on the ground.
"His breathing was laboured, he was very limp, and he was really starting to deteriorate."
Staff from Karingal Veterinary Hospital took Ernie away to surgery, and removed his spleen successfully. To help Ernie's owner pay for the surgery, a crowdfunding page was set up to help foot the bill.
Thousands of dollars were raised, and Ernie has now been reunited with his owner.
Ernie's owner took to social media to thank those who contributed to help save Ernie's life.
"To all my magnificent friends who were responsible for saving Ernie's life, I love you all and after I recover anything I can help with please just ask," he said.
Ernie's owner is now out of hospital after sustaining a number of injuries in the crash.