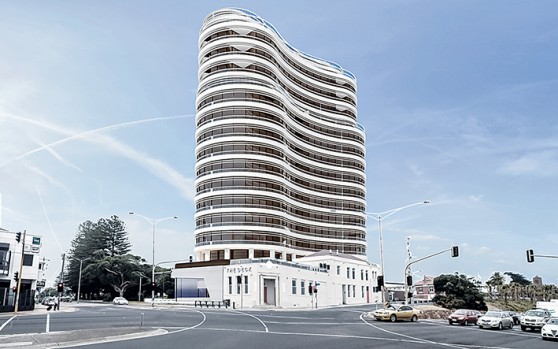 A TOWERING 17-storey apartment building in the centre of Frankston has been given the go ahead by council after the developer was forced to add more car parking spaces.
The skyline at Frankston's famous – some might say infamous – 'four pubs' corner will be dominated by the $30 million apartment tower which will feature a "curvilinear shape" and be the tallest building in Frankston once complete.
The 6 Davey St complex designed by Finnis Architects will contain up to 63 homes and residents of two and three-bedroom homes will be well placed to observe pubgoers coming and going from Daveys, the Pier Hotel, The Grand and The Deck.
Apartment dwellers on upper levels facing the beach will also cop a vertiginous birds' eye view from on high of patrons drinking at The Deck's outdoor roof-top balcony.
Office space will be located on the ground floor of the 52.2 metre-tall building and a double-storey basement carpark will have 104 vehicle spaces.
Councillors at this month's council meeting forced developer Peninsula Blue Developments to add 15 car spaces after a proposal to provide 89 spaces was rejected.
Seventy spaces will be for residents, 12 for visitors and 22 for office staff use. Traffic access will be via Bay Lane.
Town planner Michael Meyer, speaking on behalf of the applicant, said designers had worked closely with council staff, state government planners and VicRoads on the plan for the building.
"We consider it to be an iconic development proposal in a prominent location," Mr Meyer said.
There is no mandatory height limit for developments in the Davey St area. Council officers deemed the building height "appropriate in principle" and said the apartment complex "can comfortably coexist" with a similar sized 14-storey Airio Apartments building approved by council in early 2011.
Construction has yet to begin on the Airio Apartments project.
Mr Meyer said the developer intended to start building the 17-storey tower approved by council this month "as soon as is practically possible".
Real Estate Champions agent Mark Jones, who is marketing the off-the-plan apartment sales, said he had "20 presales" for the project.
Two and three-bedroom apartment prices start at $550,000. Two luxury three-bedroom penthouse suites on the upper floor have been sold for $1.25 million and $1.5 million.
"I'm confident there will be enough presales to get construction started," Mr Jones said.
Banks traditionally seek comfort in having at least 50 per cent of apartments sold in a planned building before lending construction funds to a developer.
Mr Jones said construction is due to begin in April next year.
"We haven't even got a name for the building yet because we didn't intend to publicly market the apartments until January after planning permission had been granted," he said.
The apartments will be billed as "Frankston's most enviable and iconic address… with an emphasis on affordable luxury, superb views of the bay and the convenience of inner city-style apartment living".
There were no objections to the planning application for the 17-storey building at this month's council meeting.
First published in the Frankston Times