PUNTERS pumped more than $62 million into poker machines in Frankston in 2012-13. The jackpot for pokies venues was revealed in a council officers' gambling policy report lodged at this month's council meeting.
Councillors were horrified at the amount of money "sucked out" of Frankston each year and vowed to take a stand against the further spread of electronic gaming machines at inappropriate locations.
The Seaford Taverner Hotel topped the list of pokies venues coining it in with a staggering $15.78 million lost between July 2012 and June 2013 at the hotel.
Cr James Dooley noted the Seaford Taverner Hotel is situated near Frankston North, "the sixth most disadvantaged postcode in Victoria".
"I read with horror the losses that are coming out from poker machines," he said.
"That's $15 million sucked out of this neighbourhood."
Cr Dooley did not blame Frankston North residents for the huge pokies losses in the area.
"People are in their nature compulsive and this is a vulnerability we all have but it's not OK to take advantage of people's vulnerabilities.
"Anything we can do as a council to limit them [poker machines], cap them, get rid of them would be a good thing."
Frankston has 534 electronic gaming machines and the average expenditure per adult in the municipality is $695 per annum, higher than the metropolitan Melbourne average of $638 per adult annually.
The council officers' report stated "EGM gambling is a legal form of entertainment in Victoria … [but] also carries with it considerable social and economic risks, particularly to members of the community vulnerable to problem gambling".
Cr Glenn Aitken blamed the Kirner government for introducing pokies across Victoria in the early 1990s and subsequent state governments for doing little to rein in pokies expansion.
"The hypocrisy of it is we are told time and again this returns many benefits to the community. How laughable is that?"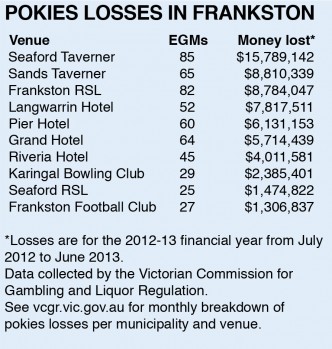 "The whole thing is a complete farce. The money gets dragged out of our community and precious little is returned to our community or economy. It is whisked away from our people who can least afford this."
Councillors unanimously voted to back the council officers' gambling policy report recommending gaming machines should not be situated near areas of "social disadvantage or gambling-sensitive uses".
The report also called for pokies to be banned from the Carrum Downs North Neighbourhood Centre, Ballarto Rd Neighbourhood Centre, Langwarrin Plaza, Seaford Rd Neighbourhood Centre and Towerhill Neighbourhood Centre.