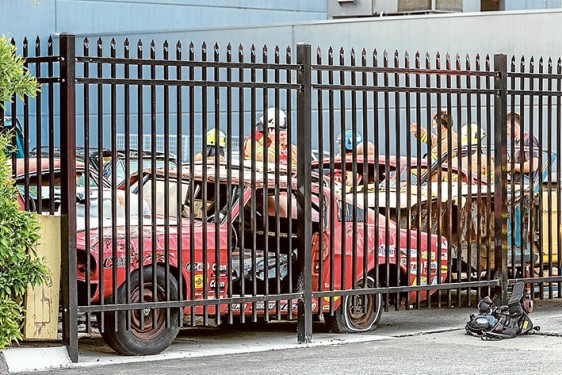 A MORDIALLOC motor vehicle restorer watched on in despair early yesterday (Tuesday 6 October) as fire tore through the business he had taken 15 years to build up.
Leo Banks, whose Muscle Car Factory business in Japaddy St was well known for its full custom, pro-touring and concourse re-finishes, was devastated with the loss of up to 25 cars in his workshop – some valued at up to $200,000.
Kingston police say the signs point to a deliberate arson attack on the business around 2am Tuesday, with Mr Banks on the scene soon after.
It is believed an arsonist climbed on to the roof of the business, one of a group of small factories, and poured an accelerant down exhaust pipes onto a mezzanine area where other combustible items were stored, and ignited them.
On the workshop floor were "exotic" muscle cars, including early model Mustangs, Corvettes, Camaros, GT Falcons and a famed 1967 Mustang Eleanor Fastback.
The vehicles were independently owned and in the process of being rebuilt and restored. Many are irreplaceable. It is believed the business was not insured.
What's worse for Mr Banks is that he was about to receive the next cycle of vehicle progress payments. His cash flow will now dry up.
The fire spread rapidly throughout the factory, destroying most of the cars, accessories and tools.
Police put the damage bill at $6-$8 million, with structural damage to party walls adding to the damages.
Up to 15 fire units and 150 firefighters fought the blaze for several hours, hoping to corral it from other factories – including a plastics manufacturer – in the court.
But Mr Banks is determined to carry on. "I don't give up," he told The News.
"I will rebuild the business. This is my life's passion.
"We have seven full-time employees and we work 12 hours a day, six days a week.
"I am not going to walk away from them."
First published in the Chelsea Mordialloc Mentone News – 7 October 2015