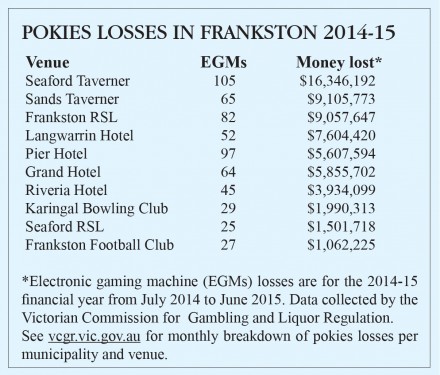 PUNTERS in Victoria lost $5.8 billion while gambling in the past financial year and poker machine losses in pubs and clubs made up $2.57 billion of the total losses as gamblers.
An annual report tabled by the Victorian Commission for Gambling and Liquor Regulation in State Parliament last week revealed that in 2014-15 gamblers lost $2.57 billion on pokies, $1.84 billion on gaming machines and tables at Crown Casino and $857.6 million on racing, trackside, football and sports betting.
Victorians also lost $500.6 million on lotteries and $16.7 million on Keno.
While punters lost cash the state government raked in $1.62 billion in taxes and levies on gambling profits.
VCGLR data shows Frankston pokies players lost more than $62 million for the 12 months from July 2014 until June this year, matching the previous financial year's Frankston losses.
The Seaford Taverner, owned by Woolworths subsidiary the Australian Leisure and Hospital Group, had the eighth highest pokies losses in the state according to VCGLR statistics.
The ALH Group also owns the Pier Hotel in Frankston and the Sands Taverner in Carrum Downs.
A voluntary pre-commitment scheme, called YourPlay, aimed at problem gamblers and those who wish to limit their pokies losses will be introduced by the Labor state government in December.
Gamblers will be able to sign up for a swipe card to set spending limits, set reminders and track how much time and money they are spending on gaming machines.
The YourPlay scheme, designed by the Department of Justice and Regulation, has bipartisan support from the state Liberal National Coalition opposition.
When launching  a trial of the pre-commitment scheme in July, Gaming and Liquor Regulation Minister Jane Garrett said Labor "is leading the way with this Australian-first pre-commitment scheme".
"For the first time people will be able to walk into a gaming venue anywhere in the state and control how much time and money they want to spend."
Critics of the $197 million YourPlay scheme – mostly paid for by the pokies industry, after consultation with industry, community groups and researchers – note gamblers can choose to play on after they reach the preselected swipe card limit.
Neighbouring gamblers in the Mornington Peninsula Shire and Kingston lost a total of $79.4 million and $81.5 million respectively on the pokies last financial year.