LACK of transparency at Frankston Council was on full view when council's monthly public council meeting last Monday evening was suddenly cut short by the mayor Cr James Dooley.
The latest display of discord among councillors has prompted a warning that the state government may step in if it continues.
Three days after the council meeting was cut short, Frankston Labor MP Paul Edbrooke and Local Government Minister Natalie Hutchins discussed "some very concerning issues" he has with the council.
"We're trying to get along with them but they need to know there are boundaries that we can't overlook," Mr Edbooke said. "If they get to that stage the government has to step in."
The state government will begin a $63 million redevelopment of Frankston train station and its surrounds this year and a $70.5 million expansion of Chisholm TAFE is underway so the government is keen for council to get its house in order.
Mr Edbrooke noted council has recently faced scrutiny from "local newspapers" and some of the coverage has been aired on statewide radio and TV news. State governments have the power to suspend councils.
Council has faced questions about an external investigation into councillors' behaviour ('Silence surrounds conduct hearing', The Times 25/4/16), payments to external consultants ('Cash out as consultants cash in', The Times 26/4/16) and councillors' expenses ('Councillors expenses rules 'out of time'', The Times 2/5/16) in the past few weeks and the abrupt end to the latest council meeting is a public sign of ongoing tensions between councillors.
At last Monday evening's council meeting Cr Dooley banged the mayoral gavel and ordered the meeting end amid threats to expel Cr Suzette Tayler from the council chamber after she mentioned a conversation she had with him a couple of weeks before the meeting.
The meeting was halted after descending into chaos when councillors started to argue about a proposal by Cr Darrel Taylor to ask auditors to investigate cost blow outs on a $4.239 million refurbishment of Wells St, originally budgeted at $3.58 million.
Minutes before Cr Dooley called time, he ordered the nine councillors out of the chamber to a back room to try to resolve bitter differences of opinion over the need for an audit of the Wells St works.
Councillors had been arguing about an amendment to Cr Taylor's notice of motion by Cr Glenn Aitken for an audit of the Wells St revamp to also include construction of the new war memorial, Frankston Yacht Club and Frankston Park function centre "for comparison" purposes.
Cr Taylor and some fellow councillors were concerned a wider-ranging audit would not be completed before October's council elections when all councillors face voters for re-election.
Council CEO Dennis Hovenden said he could not guarantee a delivery date before October for any wide-ranging internal audit that scrutinised several major projects.
Raised voices could be heard during a five-minute adjournment after Cr Rebekah Spelman accused Cr Aitken in the chamber of trying to increase the scope of the audit due to "over involvement" in the Wells St revamp to include new street furniture and lighting.
Cr Aitken threatened to sue Cr Spelman over the remark, subsequently withdrawn, before the bickering between councillors behind closed doors after the mayor ordered councillors to vacate the chamber.
Upon their return to the council chamber the mayor said he would adjourn the meeting if it became disorderly again.
Cr Suzette Tayler then said she had been called by Cr Dooley who expressed concerns about Wells St project cost blowouts.
"The mayor rang me on a Sunday night and said he was very concerned about East West Wells St and he was really concerned about a $300,000 blowout and he was really concerned about a councillor," Cr Tayler said.
She accused the mayor of "gagging" her when Cr Dooley threatened to have her expelled from the chamber and suddenly ended the meeting.
"I'm being transparent. It's about transparency. I'm being transparent to the residents of Frankston and I'm only repeating what you told me, Mr Mayor," Cr Tayler said.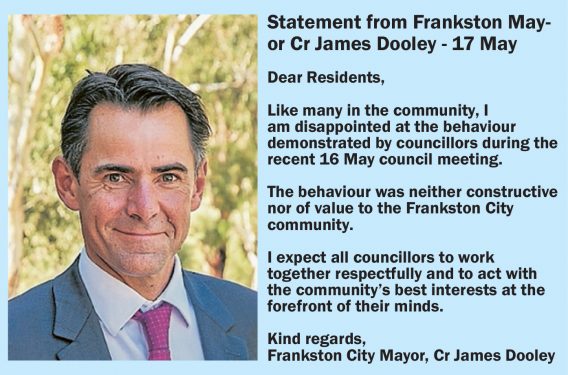 Cr Dooley declined to comment after the meeting last week. A statement from the mayor was issued by council on the day after the meeting (right).
Cr Aitken said he would "vigorously defend" any allegations of impropriety around his involvement in the Wells St revamp that will feature wider footpaths, improved street furniture, more outdoor dining areas, better street lighting and more trees.
When contacted by The Times Cr Aitken said he had visited a Seaford factory where street furniture and lighting designed by Darryl Cowie is being built before installation in Wells St on several occasions in the interests of "getting the best for Frankston".
Casting of furniture is also being undertaken at a Campbellfield factory.
Cr Aitken, an architecture aficionado, said the Wells St refurbishment's scope widened as the project progressed.
"We started off with standardised type poles, seats off the rack, ordinary paving, no planters … and bit by bit as the design evolved it went back to council 11 times over the period of a year … and council had described to them the changes taking place and council also had explained to them the budgetary implications and council voted unanimously on each occasion [to approve changes]."
Cr Aitken said he had nothing to fear from any investigation by council watchdogs such as the Local Government Inspectorate if it eventuated.
"Bring it on. I would welcome a judge and a jury. I will stand before anyone and discuss the process and I will come out clean.
"I never handled the money, nor did I employ contractors, nor did I direct contractors. Nor did I monitor monetary flow as the project continued. Council did as the scope widened."
The Wells St project was originally budgeted at $3.58 million but costs have increased to $4.239 million.
The state government is contributing $1.79 million – half of the project's originally anticipated $3.58 million cost – and Frankston ratepayers will now pick up the bill for the extra $659,000 and counting cost increase.
The exit of councillors from the chamber during a meeting is the second time in this four-year council term the nine have publicly clashed to such an extent that a meeting was adjourned.
In January 2015 a public council meeting had to be stopped for about 10 minutes after councillors began shouting at each other across the council chambers amid "bullying" allegations ('Councillors 'feel bullied'', The Times 26/1/15).
Council scheduled a special public meeting on Monday 23 May to finish the latest interrupted council meeting shut down by Cr Dooley.