---
UPDATE 16 August: Premier Daniel Andrews told media this morning at a press conference that several councils "failed to comply with the law of our state" but the Labor state government will look at options to change the law so councillors are not disqualified "in the interests of ratepayers".
Acting Local Government Minister Richard Wynne, the state Minister for Planning, subsequently said new legislation will be introduced into Parliament to allow councillors to correctly sign an amended code of conduct before a new deadline of 22 February next year.
MORE than 100 councillors across Victoria – including all nine at Frankston Council and one councillor at Mornington Peninsula Shire – face the sack next month for failing to properly agree to a new councillor code of conduct.
The Local Government Investigations and Compliance Inspectorate has confirmed 107 councillors and 13 councils will be disqualified from 1 September for not correctly signing a revised code of conduct, introduced by the state government as part of a review of the Local Government Act, aimed at improving councillors' behaviour.
The Times first revealed several councillors and councils across the state faced the axe ('All councillors face sack', The Times 5/8/16) for missing a 4 July deadline to sign the new code of conduct.
In Frankston's case, an administrative blunder is understood to have seen all nine councillors' signatures not witnessed by council's chief executive officer as stipulated by the Local Government Act.
Frankston Council CEO Dennis Hovenden refused to speak to The Times about the apparent mistake last week preferring to wait until the inspectorate completed an audit of all councils' submitted documentation.
Inspectorate chief municipal inspector David Wolf confirmed today that audit, finished on Friday, found 13 of the state's 79 councils, including Frankston, "have not complied with the requirements and those councillors and councils, under the current legislation, will be disqualified as of 1 September".
"Those councils will require administrators to be appointed for a seven-week period until the 2016 general council elections are decided," Mr Wolf said in a statement.
Council elections to elect councillors, held every four years, are due to be held this year on 22 October.
The inspectorate revealed the councils are: Ballarat, Central Goldfields, Benalla, Campaspe, Cardinia, Greater Shepparton, Hobsons Bay, Frankston, Mount Alexander, Moyne, Queenscliffe, West Wimmera and Wyndham.
Mr Hovenden issued a statement on Tuesday (16 August): "We believe we have complied with the intent of the legislation. We are seeking clarification from the Victorian government and won't be making any further comment until we have received all relevant information."
The inspectorate has advised the Labor state government of its findings for consideration of "next steps".
Mornington Peninsula Shire councillor Hugh Fraser was named as one of nine individual councillors at councils not included in the 13 councils facing sanction.
Cr Fraser signed the revised code of conduct but also wrote "signed under protest" on the document.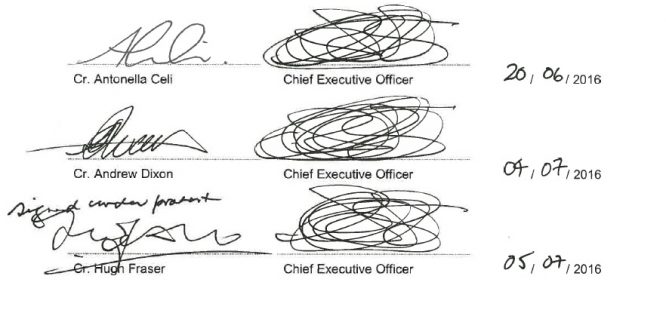 Cr Fraser has been contacted for comment.
Councillors facing the sack could yet be saved from expulsion from councils if the state government makes the unprecedented decision to amend Local Government Act legislation.
An updated version of this article will be published in the upcoming 22 August edition of the Frankston Times
This article was updated on Tuesday 16 August to include a statement from Frankston Council CEO Dennis Hovenden and to report Mornington Peninsula Shire councillor Hugh Fraser signed the amended code of conduct "under protest".