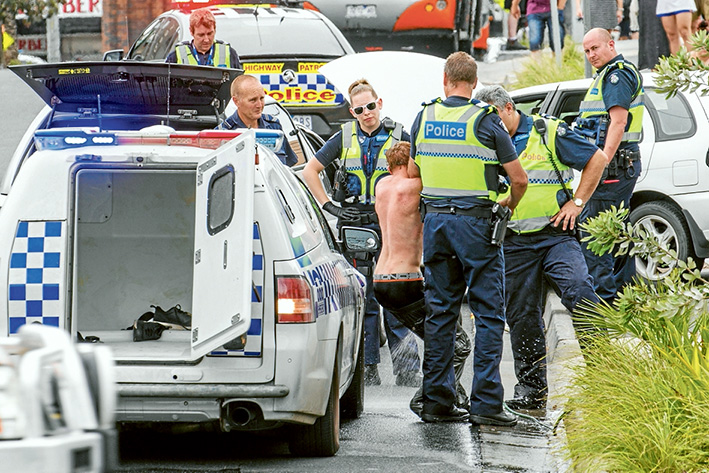 A LARGE group of bystanders brought busy Centreway, Mordialloc, to a halt last week as police and two Good Samaritans wrestled with four alleged teenage car thieves.
Six police cars, a highway patrol car, police dog squad – and even the fire brigade – rushed to the scene after the stolen car was spotted being driven erratically on Nepean Hwy.
Police saw it do a burn-out and chased it into Beach Rd and then into Centreway where it ended up on the footpath.
Police will allege four Berwick teens stole the $10,000 Nissan Pulsar in Berwick, 12.45pm, Tuesday 13 December, and drove to Frankston where they allegedly stole liquor and drank it as they drove erratically up Nepean Hwy to Mordialloc, about 2pm.
Police on the scene arrested one of the teens in the driver's seat while the other three ran off – only to be wrestled to the ground by two members of the public.
It is alleged one of the thieves punched a policeman in the face before he was sprayed with OC foam and arrested.
A witness said she was shaken up when the stolen car cut across her vehicle and ended up on the footpath after clipping the kerb.
Another said police had drawn their weapons in response to one of the offenders attacking the police; instead they used capsicum spray to subdue him.
The youth apprehended at the scene loudly protested that the spray was stinging his skin as he was hosed down by police.
The teens, aged 19-13, were taken to Moorabbin police station where police allegedly found  two were carrying knives in their shorts. One, aged 13, had to be taken to hospital due to his state of intoxication.
The two older teens were charged with reckless conduct endangering serious injury.
The 18-year-old was remanded to appear at Dandenong Magistrates' Court, Friday 23 December, the 19-year-old was bailed to appear at the same court, 24 January.
The 13-year-old is to be interviewed at a later date and the 14-year-old has been released pending summons.
First published in the Chelsea Mordialloc Mentone News – 21 December 2016