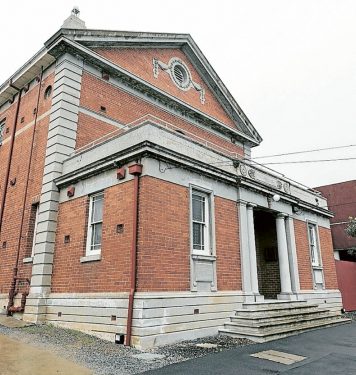 YOUTH could hold the key to the future of the historic Mordialloc Masonic Hall.
Kingston Council asked for expressions of interest last year for tenants to lease the vacant building that requires extensive internal renovations to bring it up to modern-day standards.
Council faces an estimated $3.5-$4 million outlay for renovations at the hall including the installation of toilets and a new kitchen so has been seeking a community group partner to share the costs.
Councillors at last month's public council meeting held on 27 February noted rates capping and budget constraints meant council is restricted on spending ratepayers' money on major projects.
Red Sky Cinemas proposed installing a community art house cinema in the upstairs section of the Masonic Hall, the Australian Radio Museum said it "would take care of the hall" if allowed to display a collection of radios in a permanent museum and the Mordialloc College Alumni Association proposed an archival museum devoted to the school.
Council has decided to negotiate with Sandringham-based Kids Like Us Community Youth Hub over a youth centre aimed at supporting young people "with emotional social learning challenges".
The group has offered to contribute up to $700,000 to internal renovations at the hall if an acceptable sub-lease is negotiated with council.
Cr Geoff Gledhill welcomed the interest by Kids Like Us and said he hoped council officers could also keep speaking to other community groups since the non-commercial Kids Like Us may use the full building premises.
"We think there's certainly the possibility there can be a combined usage of this area," he said.
"We're not sure if one organisation will take up the whole facility.
Cr Tamsin Bearsley noted a community petition is calling for youth mental health services organisation Headspace to be offered premises in Kingston so it may be a good fit for the hall.
Cr Ron Brownlees stressed the historic features of the Mordialloc Masonic Hall will be retained as part of any lease agreement with a tenant.
Council officers noted ratepayers will need to make a contribution to renovate and maintain the hall in partnership with Kids Like Us and other community groups that may ultimately lease space at the building that is "socially important to the Mordialloc community".
First published in the Chelsea Mordialloc Mentone News – 8 March 2017