Detectives from the Sexual Crimes Squad have released CCTV of a man they wish to speak to after a woman was attacked and sexually assaulted in Seaford in April.
A 19-year-old woman was walking home from the train station along Railway Parade near Seaford North Reserve at about 3.10am on Saturday 1 April.
It is believed the woman had stopped briefly near bushes at a church car park when she was attacked from behind by an unknown man who sexually assaulted her.
The man then ran from the scene and the victim walked home, where she subsequently contacted police.
The man is described as having a tanned complexion with brown hair, thin build and spoke with an Australian accent.
At the time of the incident he was wearing jeans with a belt and a dark coloured t-shirt.
He also had a distinctive mole on the left side of his cheek or chin and has small teeth.
Earlier this year police released a digital composite image of a man they wish to speak to and they continue to appeal to anyone who can identify that man to come forward.
Investigators are now releasing CCTV of a man walking along Railway Parade prior to the attack and believe this person is likely to be able to provide information critical to the investigation.
The footage shows a man walking in the vicinity of Hayman Avenue about 2.55am.
Investigators believe the man then walked along Railway Parade before coming across the woman at the south west corner of the reserve about 3.10am.
They have released a map showing the route the man is believed to have taken.
Detective Sergeant Rod Neylan said police believed the man is likely to have local knowledge of the area.
"After the incident, the man has run across the reserve, which has a number of small fences separating it into sections, making it difficult to cross easily or quickly," he said.
"We also know he ran down a very small alley near the north west corner of the reserve and this alleyway is so small that we believe he would have had to have known previously it was there.
"Whether he lives in the area or has previously lived in this area, we don't know, but we do suspect that is the case based on what appears to be intimate knowledge of these back streets.
"I'm urging people who live near that reserve to take a look at these images and think hard about whether this is someone you know — someone who lives in the area now, has lived there before, or even someone who worked in the area.
"There is someone out there who knows who this man is."
Det Sgt Neylan said police were also yet to recover all of the victim's belongings.
"We'd ask that people double check their backyards, including any outbuildings such as garages and on the roof of those buildings, in the event any items have been thrown there by the offender," he said.
"Any items that can be recovered might provide a vital clue."
An information caravan was set up outside the community centre on Station Street in Seaford on 28 April and police worked through a large number of information reports provided by members of the public.
Anyone with information is urged to contact Crime Stoppers on 1800 333 000 or submit a confidential crime report at www.crimestoppersvic.com.au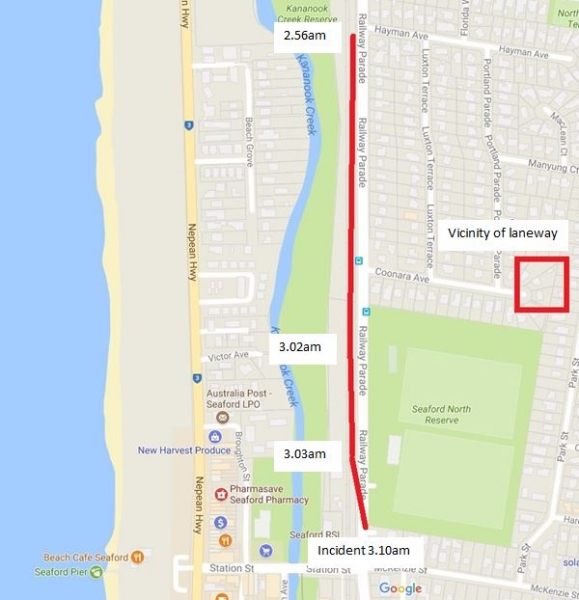 Victoria Police News – Tuesday, 11 July 2017