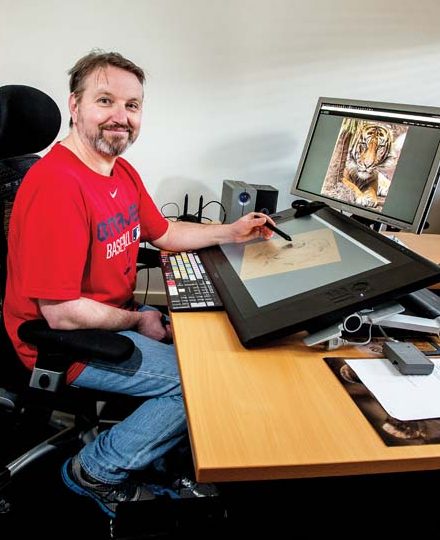 A BRUSH with death made artist David Oakley reassess his life and pursue a passion for art that is on display in Frankston this month.
The Chelsea Heights resident's Exhibition '15' marks 15 years since Oakley was almost killed when he was attacked by a knife and hammer wielding robber in a shop in Hoddle St, Abbotsford in 2002.
The then 33-year-old was "not expected to live" after suffering several hammer blows to the head during the armed robbery.
It took more than five years of speech therapy to relearn to speak and to this day Oakley feels no sensation down the right-hand side of his body.
He lost about 16 per cent of his brain and part of his skull after surgery and was in an induced coma for weeks in The Alfred hospital after the violent attack.
One of the artworks in the exhibition is based on an X-ray of his brain taken in 2003 that illustrates the damage done by hammer blows.
The former website designer said he had "a five-year plan" at the time of the attack but after his near death experience he decided he had to pursue his artistic dreams.
"Before I was a workaholic and I thought 'I'm going to do something one day' but after I decided my art and interest in animals are what I want to focus on so I'm going to do that now."
Oakley draws portraits of animals and accepts private commissions to portray family pets.
He takes photographs for reference purposes and draws animals using a computer pressure pad.
"I tried to paint but depth perception is a problem so I was either too light or heavy on canvas."
Oakley's work is being exhibited at Kindred Art Space, a warehouse conversion that displays art with a difference.
Gallery founder and art therapist Kerryn "Kez" Knight said Kindred Art Space has been open for just over a year.
"We decided to build a place and fit it out to be really welcoming. There's an open fire and lots of rooms and a meditation garden out the back."
She said art can help people deal with anxiety, trauma or depression.
"It's not about creating a masterpiece – it's about the process," Knight said.
"You're creating from your heart and it's an outlet to express frustration, trauma or anxiety."
The gallery's latest artist to have his work exhibited at Kindred Art Space has managed to look on the bright side of life despite his life-changing traumatic experience 15 years ago.
"One man tried to kill me but so many people saved me," Oakley said.
"Usually people with a brain injury lose friends – I've actually made more friends than before."
He said "so many amazing people" had helped him on his journey to recovery including doctors, nurses and friends.
"Usually people with a brain injury lose friends – I've actually made more friends than before."
David Oakley's 15 Exhibition is on display at Kindred Art Space,
22 Kookaburra St, Frankston until 18 September. Public entry free.
See kindredartspace.com.au or call Kerryn Knight on 9770 5670 for details.