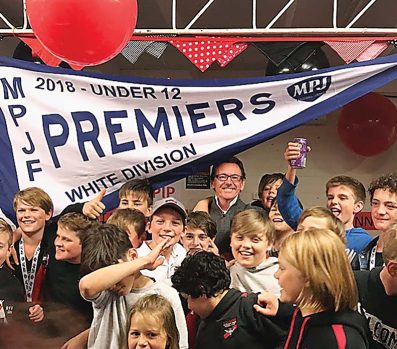 MOOROODUC Junior Football Club celebrated their first ever grand final victory on Saturday 8 September as their under-12s enjoyed a strong win over Mt Martha in the MPJFL grand final.
Moorooduc, who joined the MPJFL four seasons ago, had another three teams competing across the league, but it was the under-12s side which landed the historical moment.
Having been defeated by Mt Martha in the second semi-final, Moorooduc had to play Red Hill in the preliminary final before making their way back into the grand final.
After scoring a victory over Red Hill, Moorooduc came up with a new game plan against Mt Martha who had beaten them previously, and it clearly paid off.
Moorooduc led from start to finish and were never headed in the grand final, eventually securing a four goal victory.
Moorooduc Junior Football Club president Wayne Holdsworth said it was a massive achievement for the side and the club as a whole.
"We had big celebrations back at the club on the Saturday night with a few videos of the game and the highlights from the day," he said.
"All the players from the team and many other juniors from some of the other teams came back with their families to celebrate the season. It was probably the busiest night we've had at the club."
Holdsworth said it had been a "good season" all-round for the under-12s side with three of their players, Oskar McDermott (third), Mac Holdsworth (fifth) and Gabe Bieber (ninth), all polling in the top 10 of the league's 'best and fairest' award.
The under-12s coach David Cross was also awarded the MPJFL Coach Of The Year.
Moorooduc, who had four teams competing this season, is hoping to have a further two sides competing next year.
Other MPJFL grand final victors were:
Under-11s Girls – Tyabb, Boys Navy – Red Hill and Boys White – Dromana ; Under-12s Boys Navy – Mt Martha and Boys White – Moorooduc; Under-13s Girls – Mt Martha, Boys White – Somerville and Boys Navy – Mt Martha; Under-14s Boys White – Rosebud and Boys Navy – Rye; Under-15s Girls White – Pearcedale/Baxter, Girls Navy – Mt Martha and Boys – Beleura; Under-16s Boys Navy – Mt Martha and Boys White – Dromana; Under- 17s Boys – Pearcedale/Baxter; Under-18s Girls Navy – Mt Eliza and Girls White – Seaford.