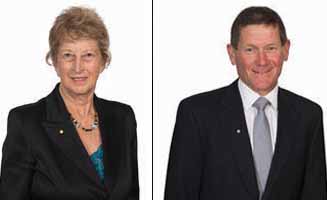 AN ugly clash between Kingston councillors over the Bay Trail has seen a special council meeting called to rescind a move to refer the matter to Victoria's peak anti-corruption body for investigation.
Four councillors stormed out of the meeting after a vote passed to call off a push for an IBAC investigation. The meeting was also interrupted on numerous occasions by vocal members of the public gallery who are opposed to a Bay Trail development which will see trees planted along Beach Road.
Councillors Ron Brownlees, Geoff Gledhill, Tamsin Bearsley, and George Hua all left the room at the 11 February meeting before it had concluded. They were the same councillors who voted on 29 January to refer the Bay Trail matter to IBAC.
Cr Steve Staikos said a special meeting of council and rescission motion were necessary because "two councillors were absent from the meeting, therefore it was not an accurate reflection on the feeling of all councillors."
Cr Geoff Gledhill, who moved the original motion for an IBAC investigation, said "councillors took offence that they had done something wrong. This came up because people came to me because they weren't happy with the process we as a council had followed. It was all about process, they felt that they as residents had been ignored by this council, and other bodies. I think they had fair grounds."
"This simply comes down to do we want to do the right thing by our residents? Do we want to ignore them, thumb your nose at them, and make inappropriate remarks regarding their motives? I haven't seen a process that's been conducted in this manner, the least we could do is give people some comfort in that process, while they might not agree with the outcome, at least they can have comfort that the process was fair and reasonable," he said.
"If this [rescission] is successful tonight, people will take matters into their own hands."
The absence of Cr David Eden due to illness at the first meeting proved to be the difference. He attended the hastily called follow up meeting to cast his vote to rescind the call for an investigation.
Crs Staikos, Rosemary West, and Georgina Oxley were opposed to the original motion on 29 January, and instead took aim at Cr Gledhill, alleging he held a conflict of interest. They unsuccessfully tried to amend that motion to refer Cr Gledhill to IBAC.
Cr Eden said he would support a rescission, partly because there were no guidelines stating an IBAC investigation must be called by a council, rather than by an individual.
"We have confirmation that a complaint doesn't have to come to a council chamber. They can do it from home if they've got that evidence, as long as you be clear on who you are complaining about, and what you are complaining about," he said.
"I've seen no actual evidence, just a list of grievances that people have with a particular project. A lot of people don't like a project so they want to fling mud."
Cr West said she had been the target of a "smear" campaign due to her support of the Bay Trail. She said "this is a logical time to do it if we're ever going to do it. Before Christmas I visited Altona, at the foreshore at Altona there are trees on both sides of the road. There's something special about our section of Bay Trail that people who live on it are entitled to think they can govern it."
Cr Tamsin Bearsley interjected, and said it was "defamatory" to call residents entitled.
Cr West said "residents here are demonstrating their sense of entitlement. That's not defamatory."
"We had a thorough community consultation program, meetings where questions were answered, and a vote determined by council.
"This decision is made in the best interest of the community. It is made with preserving foreshore vegetation in mind. I think this is mainly part of a bullying campaign against me and possibly other councillors."
The mayor Georgina Oxley threatened to call security on members of the public gallery after repeated heckles and jeers towards Cr West during her speech.
Shouts of "disgrace" were heard from the gallery, and Cr Staikos asked for a gallery member who made an inappropriate comment toward Cr West to make themselves known.
Cr Oxley's casting vote as mayor saw the motion of rescission carried. She said she didn't "see any piece of evidence" of illegal activity.
"If there are members of council or community members that feel that is that case, it is their right to go to IBAC. Members of the community have done so, and received letters back from IBAC saying there is nothing to investigate," she said.
"The process has been made openly and transparently. In my personal opinion this is a stunt. This issue has been designed to particularly smear some councillors. I am confident in the process council has followed."
Cr Brownlees said "one of the comments made on [29 January] was about this being another attempt to stop the Bay Trail. It's not about stopping Bay Trail at all, because work has already begin, it's on its way as was decided in the resolution. This is about issues of transparency, accountability, respect, and acknowledgement of the communities' opinions and views."
"If we have nothing to hide we have nothing to fear."
With the Bay Trail investigation called off after over an hour of debate, a second item on the agenda was to be debated stating that "council confirms that the Beach Road Boulevard plantings be for the entirety of Kingston's section of Beach Rd, from Bayside's border through to Mordialloc." As four councillors had abandoned the room by this point, the meeting was adjourned for Monday 18 February, 6pm.
Cr Tamara Barth was absent for both meetings.
First published in the Chelsea Mordialloc Mentone News – 13 February 2019