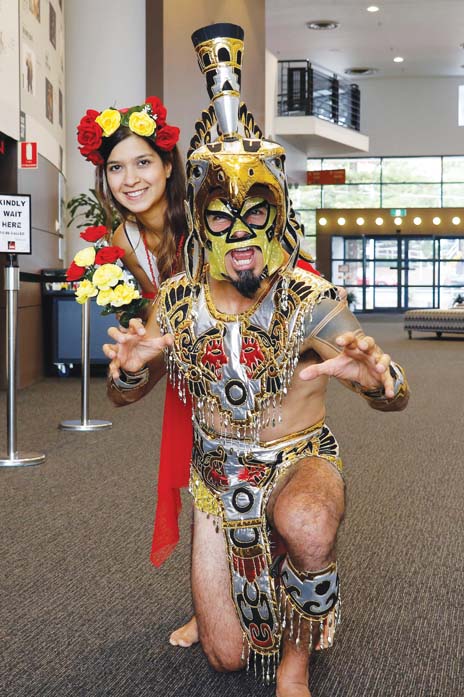 PUNCHES will be thrown and masked men will take to the sky when lucha libre professional wrestling flies into Frankston as part of the Ventana Fiesta.
Lucha Fantastica, a Mexican wrestling promotion established in 2013, will be setting up their squared circle on 2 March at the Frankston Arts Centre to contain their roster of hard hitting daredevils.
Promotor Victor Diaz said visitors can expect to see "true Mexican madness. This is a showcase of the best of Mexican wrestling for the whole family."
Mr Diaz grew up in Mexico and moved to Australia 13 years ago. He set up the promotion to showcase the types of heroes he had grown up watching as a child.
"I've been watching wrestling since I was young. Some kids have their heroes like Superman and Batman, we had the luchadores."
"I came to Australia 13 years ago and I was importing and selling Mexican wrestling masks, and people got really excited about it. So I set Lucha Fantastica up and it's been a big success."
Mr Diaz said an eclectic mix of wrestling styles will be on display, from aerial assassins to ruthless hard hitters.
"Every wrestler has their own style, and some of our wrestlers have taken them to Japan and the US," he said.
Mr Diaz said some of Australia's biggest names on the wrestling scene have plied their trade in Lucha Fantastica, including the current World Champion of Melbourne City Wrestling, Mr Juicy.
"The Identity of Mexican Wrestling", an exhibition curated by Mr Diaz, will be up and running from 2 March to 13 April.
The Lucha Fantastica showcase will kick off at 7.30 at Cube 37. The Ventana Fiesta event kicks off in Frankston from 2pm on 2 March.