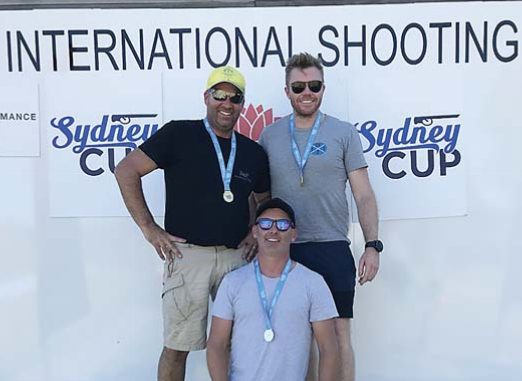 SOME of Frankston Australia Clay Target Club's and Australia's top shotgun athletes competed at the annual Sydney Cup on Friday 15 February at the Sydney International Shooting Centre.
After a two-year period as the national shotgun coach, FACTC men's trap athlete Adam Vella made an impressive return over the weekend.
Vella shot the second highest qualifying score of 120/125 to make the final and in second place behind New South Wales shooter, Matt Schiller, who shot a 122/125.
Both athletes, together with Nathan Argiro, of Mildura, shot a benchmark score (BMS) allowing them to pre-qualify for the 2019 World Championships held in Italy in July. The BMS demonstrates the ability of the athletes to perform at an elite standard required to be competitive at important international competitions.
At the conclusion of the final, Vella landed the gold medal, with Argiro finishing with a silver and Melbourne Gun Club's Mitch Iles claiming bronze.
FACTC's James Bolding also landed a gold medal in the Men's Skeet, with fellow club member Keith Ferguson securing silver after heading into the final as the top qualifier with a score of 118/125. FACTC's Mat Costa finished in fourth.
The International Shotgun circuit will also kick off this month where Commonwealth Games gold medallist and FACTC shooter, Laetisha Scanlan, will line up in the Ladies Trap at the Qatar Open.
Early next month, Scanlan and Ferguson, will also be representing Australia at the first World Cup of the year in Acapulco, Mexico.