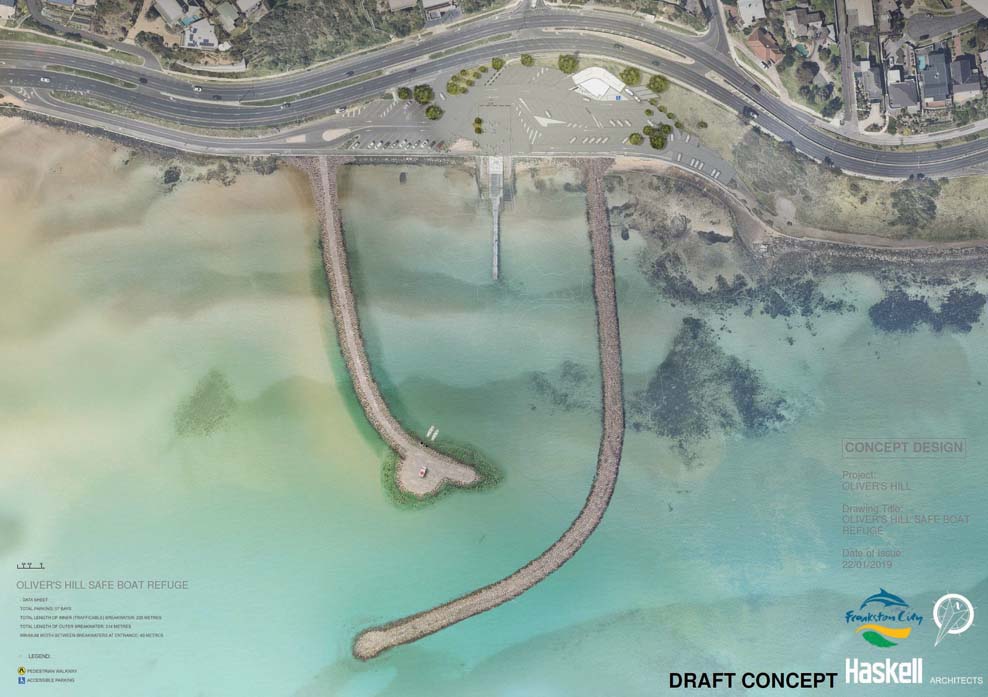 FRANKSTON councillors have again traded verbal blows in a heated debate over the construction of a "safe boat refuge" at Oliver's Hill.
The 1 April council meeting saw the issue of constructing a boat refuge and facility to home the Coast Guard come back to the forefront, with 11 people making public submissions and the public gallery full to capacity.
Councillors were asked to vote at the meeting on a motion to "notes the outcome of the community consultation for the proposed Coast Guard facility and boat refuge at Olivers Hill, supports council officers to continue to investigate the feasibility of alternate options such as at the mouth of Kananook Creek, Frankston Pier, and potential alternative designs for Olivers Hill, and notes that a further report will be brought back to council outlining the initial assessment on alternate options at October 2019 ordinary meeting."
The motion eventually passed with Crs Glenn Aitken, Steve Toms, and Quinn McCormack voting against it. Council has previously approved the allocation of $8 million to the project, asking for matching contributions from the state and federal governments.
Consultation sessions on the project were attended by over 100 people in total. An online survey with over 500 responses ended up with divided results. In response to the statement "Frankston needs a safe boat refuge adjacent to the Olivers Hill boat ramp for small boats, Water Police and the Coast Guard Vessel", 53 per cent of respondents agreed and 42 per cent disagreed. 77 per cent of respondents agreed that "additional technical and environmental assessments should be undertaken as part of the environment and planning approvals process."
Council officers reported as part of the 1 April meeting agenda that "consider an alternative solution" was the idea raised the most as part of the consultation process. A number of public submitters opposed to the Oliver's Hill project suggested Kananook Creek be explored as an alternative option.
Kevin English of the Frankston Coast Guard said that the impact of a similar project at Kananook Creek would be "far too great." He said that the Oliver's Hill facility would serve as a "marine education benchmark."
Cr Glenn Aitken spoke in opposition to the project, calling it "out of scale".
"This has split the community," he said.
"Frankston beach is a major drawcard. The public interest is to preserve the beach."
Cr Toms said that "the division has to stop."
Cr McCormack said she "had difficulty committing any council money to the project."
"$8 million could be better spent", she said.
Crs Colin Hampton and Brian Cunial were in support of the motion but noted that the future of the project was unclear without funding from other levels of government.
"If there's no state government funding, the project is finished," Cr Cunial said. Cr Hampton said "if the money's not there, we won't build it."
The re-elected state government have made no commitment to the project.
A report on the project undertaken by KBR was released last November. The report said that "sediment transport volumes indicate that sand movement at the site is predominantly towards the north-east or away from the site. The presence of little or no sand and the inclusion of rock protection works in front of the seawall support this finding". It also said "the lack of beach material at the Olivers Hill headland indicates that currently there is not a significant amount of sand being transported westwards. What sediment currently reaches the area will be further reduced by the breakwater. ("Breakwater for boats passes another hurdle", The News, 26/11/18)."