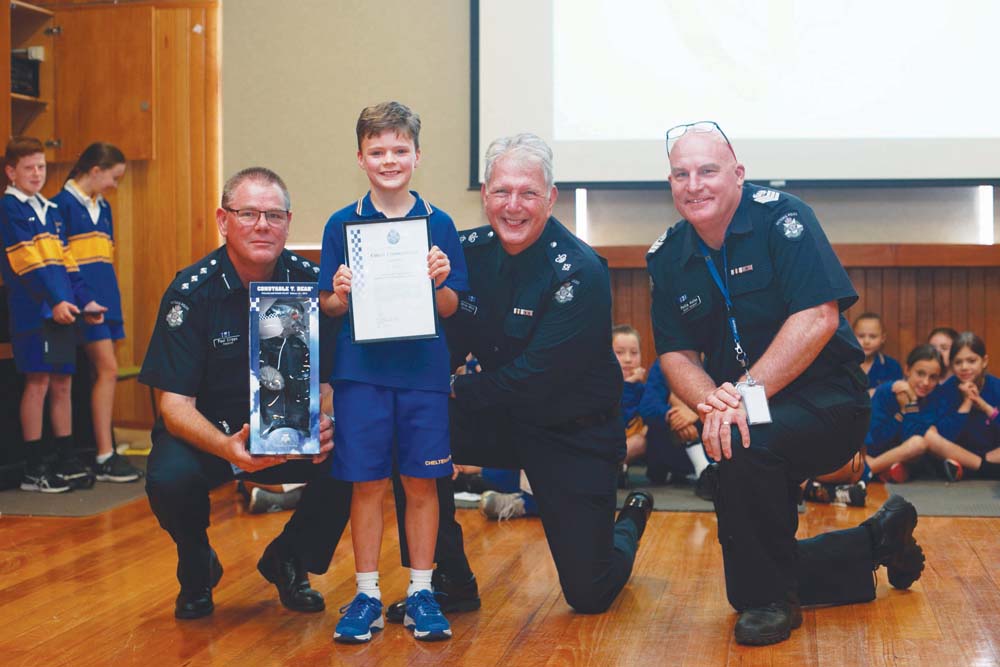 A YOUNG boy has been recognised by Victoria Police for his initiative and bravery after he helped alert lifeguards at the PARC swimming pool that a child was drowning.
Will Bourke was presented with a citizen commendation on 1 April in front of his schoolmates at Cheltenham primary.
His father Steve said that he was "really proud" of his eight-year-old son.
"Will was with my father at PARC last school holidays having a swim with his cousin Henry. They walked over to the pool and looked in when they saw a young boy who looked to be in trouble under the water," Mr Bourke said.
"Will went over to his grandad and told him what was happening. My dad walked over and knew something was wrong and he alerted the lifeguards. I was absolutely proud of him. Reviewing the CCTV it's hard to realise the kid was underwater. Will's only eight so for him to realise something was up and to have the confidence to speak up, we're really proud and rapt."
Mr Bourke said Will was stoked to be given recognition by the police.
"He was given the award in front of his whole school and all his peers. My wife's father and my parents were there," he said.
"He felt really good, he was very excited in the lead up. He thought it was exciting to have three big police officers speak so highly of him, but he's kept pretty modest."
Mr Bourke said that his son's efforts should remind all parents to "keep an eye on your kids. It's fortunate Will and Henry were there or it could have been a different situation. This should be a message in water safety."
The young boy was taken to hospital and recovered.
Will's cousin Henry attends St Augustine's in Frankston.