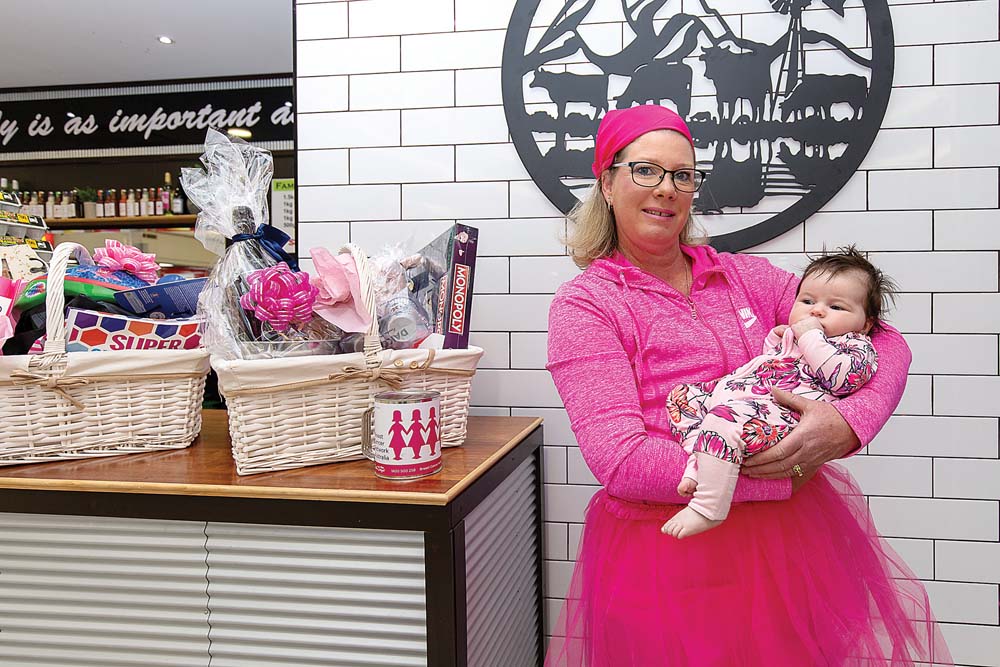 THE Gateway shopping centre in Langwarrin is turning pink to raise much needed funds for Breast Cancer Network Australia.
The week-long event, running from 29 April until 5 May, will see stores in the centre turning pink, a barbeque and raffle tickets being sold.
The event was inspired by Sally Bell, who works at McKays Quality Meats in the centre, and her recent battle with breast cancer.
"I was the fittest I'd been for ten years, and feeling fantastic, when I got the shock call after my regular mammogram," said Mrs Bell.
"Follow up testing showed I had early stage cancer in my breast. While everybody else was celebrating on New Years Eve, I was having a breast and my ovaries removed!"
The mother of three was off work for four weeks, recovering from the surgery.
"When I got back to work, my boss said he wanted to do something in recognition of my battle with cancer."
Brett Thompson, the owner of McKays Quality Meats at The Gateway, originally envisaged turning his business pink, and placing a tin on the counter. But things quickly escalated when the centre's management caught wind of his idea.
Soon, the plan had changed to turn the entire centre pink.
During the week, raffle tickets are being sold by The Gateway 'walking group' with the over $4000 of prizes donated by the centre's retailers.
Prizes include a signed and framed jumper from the Sydney Swans, a year's membership to Jetts Fitness, more than $600 worth of gift cards from different stores, a children's bike from Stockdale and Leggo plus much more.
There will also be a sausage sizzle on the Saturday with the CFA.
The prizes will be drawn Sunday 5th May at 11am.
As for Mrs Bell, she is "tickled pink" at the event, and hopes it raises awareness and funds for Breast Cancer Network Australia.
"I really was one of the lucky ones. The care I got at Frankston Hospital was amazing, and I am now back to full health.
"I am extremely grateful to Brett for all the support he gave me while I was ill, and now I have beaten this, nothing is going to hold me back,"
Mrs Bell is hopeful her story will raise awareness of breast cancer and educate other women.
"It just drives home to me how important those regular screenings are. If I had put my mammogram off, my outcome could have been totally different. The message is clear for other women. Go and get your screening. Don't even think about putting it off!"
Breast cancer is the most common cancer affecting Australian women. In 2019 it is estimated that 19,535 Australians will be diagnosed with breast cancer – this includes 150 men. This works out to be 53 Australians diagnosed each day.
Breast Cancer Network Australia supports, informs and connects Australians affected by breast cancer.
They have a range of resources to help people through their breast cancer journey and make decisions that are the best for them,
They hold information forums across the country, run an online network for those affected by breast cancer, and a phone support line.
Anyone who has been affected by breast cancer can call the BCNA Helpline on 1800 500 258 or visit www.bcna.org.au for information and support.