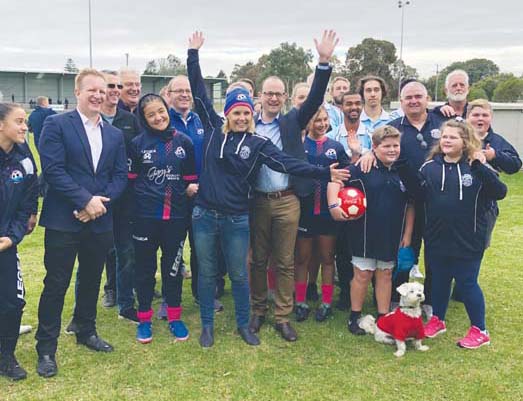 LABOR set their eyes on women's sport in Frankston this week, with candidate Peta Murphy promising $1.3 million to revamp the home of Southern United if Labor wins government.
Monterey Reserve homes both the women's football team Southern United and the Frankston Pines Football Club.
Ms Murphy said the promised federal funding, combined with a $600,000 state government grant would "ensure the community had access to modern, fit for purpose, female friendly facilities."
"Our investment in a new pavilion at Monterey Reserve will ensure it includes not only welcoming, appropriate amenities for women and girls but also that the facilities are upgraded to provide a better sporting experience for all members of both clubs, and a better facility for family, supporters and the community," she said.
"Southern United is dedicated to developing female football talent, from juniors right through to its Victorian WNPL team. Labor will ensure the club has appropriate facilities to continue to encourage greater female participation at all levels while supporting aspiring players looking to reach higher levels of competition."
Monterey Reserves' new pavillion is planned to contain a community function space, four new change rooms, two umpires rooms, toilets, a kitchen, office, storage space, and a first aid room.