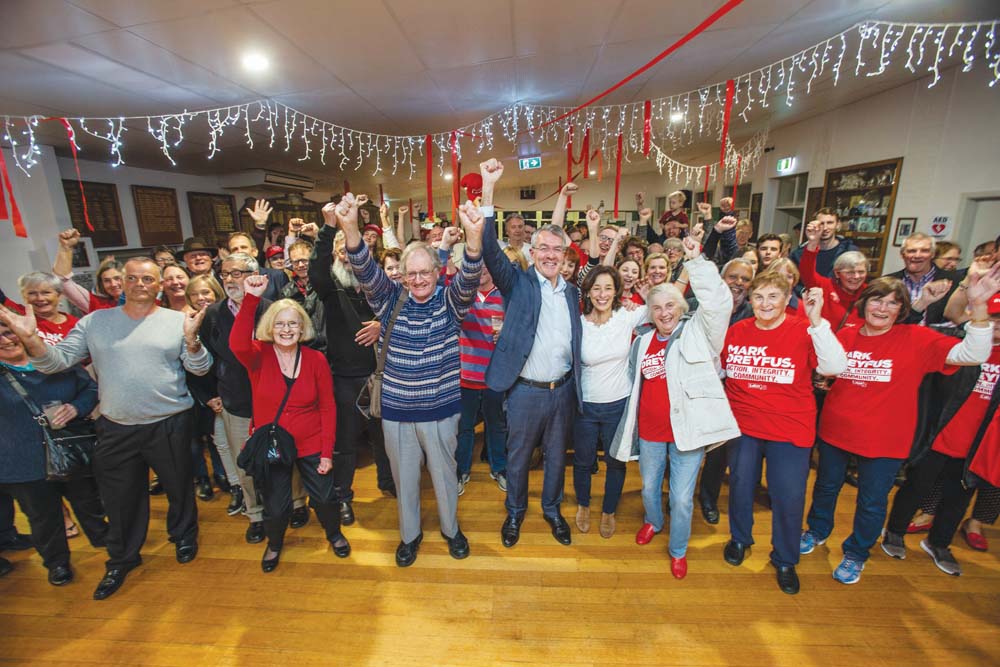 ISAACS MP celebrated with supporters at Mordialloc Bowls Club on Saturday night, as he retained his seat with an increased majority.
Mr Dreyfus was returned as the member of Isaacs with a swing of over 5 per cent towards him. He leads Jeremy Hearn on a two party preferred basis by 16.6 per cent with 75.3 per cent of the vote counted.
Mr Hearn was the candidate for the Liberal Party, but was disendorsed by the party before election day. The decision was made after anti-Islam comments made by Mr Hearn online were uncovered ("Liberals cut ties with Isaacs candidate", The News, 8/5/19).
Mr Hearn was disendorsed after the cut off date for nominations, meaning the Liberals could not put forward a new candidate.
Mr Dreyfus thanked the residents in the electorate for voting him back in.
"I want to say thank you to all the people across my electorate who voted me back in as their federal member for Isaacs," Mr Dreyfus said.
"I am tremendously grateful and look forward to working even more closely with the people, neighbourhoods, communities and businesses across Isaacs to help build connections and create opportunities. I entered politics to improve the lives of all Australians and to encourage local people to get involved and help shape the kind of future that they want."
The result was a bittersweet one for the Labor faithful in Isaacs, as the results nationally went against them. Labor leader Bill Shorten called Prime Minister Scott Morrison late on Saturday night to concede the election.
Mr Hearn was still the leading candidate on a two party preferred basis at eight polling places despite his disendorsement.
First published in the Chelsea Mordialloc Mentone New – 22 May 2019