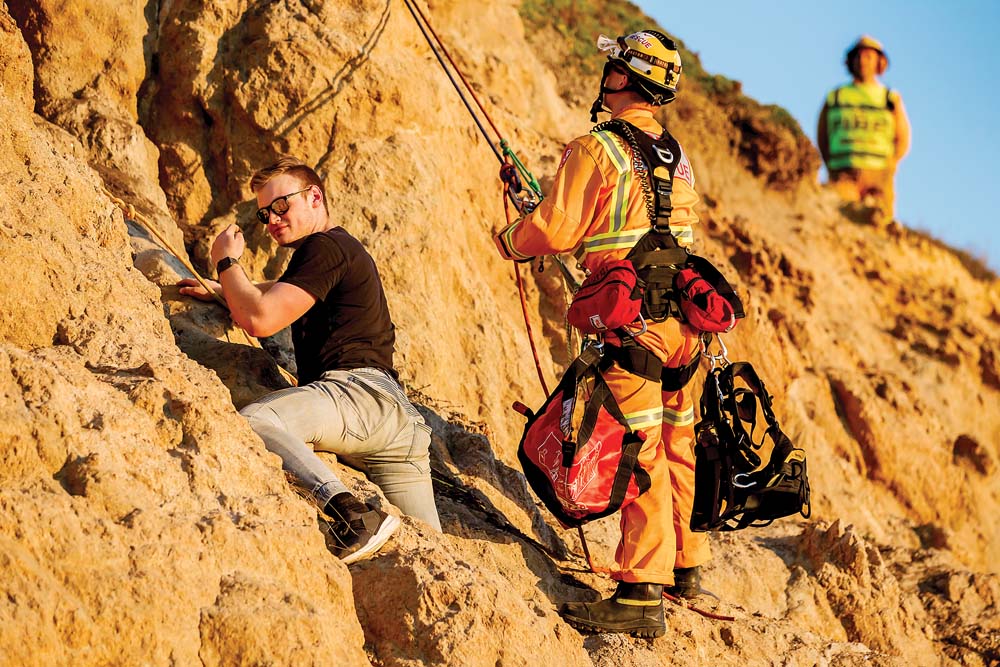 THREE men rescued from the cliff face at The Pillars, Mt Martha on Friday 5 July were members of a church group from the Bendigo area who told police they had been attracted to the popular cliff jumping spot by reports on social media.
Two Strathdale men, 19 and 18 and a Lockwood man, 21 escaped injury after being pulled up the cliff face by CFA crews using ropes about 5pm. Mornington Fire Station Rescue Commander Rick Reid said the 10-member rope rescue crew from Dandenong attached ropes to trees at the top of the cliff and rappelled down to the men who were then winched back in harnesses.
Police, including the Air Wing, and CFA units from Dromana, Mt Martha and Frankston were called to the scene by church group members.
Leading Senior Constable Melissa Seach of police media said the men had been walking with their group along the Esplanade when they climbed down and got stuck about 3.30pm.
A 400-metre long fence to deter cliff jumpers erected before last summer by Mornington Peninsula Shire Council was removed after Easter.
The fence saw a large drop in numbers of people gathering on the cliffs, but it also saw police refusing to cross it in pursuit of anyone drinking alcohol in breach of the shire's local laws.
Councillors will decide whether the fence is reinstalled in time for next summer after receiving a report from council officers.
First published in the Chelsea Mordialloc Mentone News – 10 July 2019