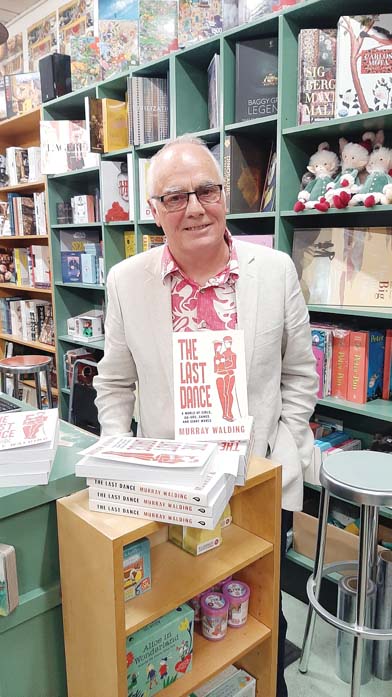 AWKWARD? Yes. Self-conscious? Of course. But, inwardly, there was lots of self-esteem, unlike many of today's teenagers who are victims to the pressures of social media.
These are some of the standout differences that become obvious in a baby boomer's reflections on life as a teenager while growing up in bayside Melbourne.
Murray Walding and his mates grew up around Edithvale and wanted to be part of the surf culture. Friends at school, they expanded their world as soon as one of them could drive and had access to a car.
Suddenly the surf was within reach – Point Leo and Phillip Island and later along the west coast to Lorne.
Walding has documented their search for fulfilment, recognition and, yes, adulthood, in the appropriately named book The Last Dance with the catchy sub-title of A World of Girls, Go-Gos, Gangs & Giant Waves.
Their search for the heart of Saturday night began with lining up outside a dance venue, more often than not a lifesaving club, church hall or former cinema. Out of necessity the dance had to be within walking distance of home.
Once inside the darkened interior Walding and his mates would gawk at the girls, sometimes sauntering over to ask for a dance. If the girls stopped looking back or turned to talk to a girlfriend, the walk across the floor would turn into a sheepish walk past, as if on the way to somewhere else.
The Last Dance is a quintessential chronicle of the rite of passage common around coastal Australia. It delves into the sometimes-brutal tribalism of rockers, surfers and sharpies.
Still surfing at 68, Walding recently underwent a hip operation, something not uncommon for long-term surfers. He moved to Lorne in the early 1970s (where he also met his wife-to-be, Sharon) after attending Frankston Teachers' College, now Monash University's Peninsula campus.
"I've been in Lorne since way back and have been around the edges of the surf industry since back then, but for the past couple of years I've been working as a writer – writing chiefly about surf and beach culture, as well as Australian rock music posters," Walding says.
The Last Dance is his fourth book and was originally planned to be about "the wild years of Melbourne nightlife".
But the more Walding started gathering thoughts and memories, the more he realised it was "a coming of age story set against Melbourne's discos and dances, and also about surfing".
While there is a bit of artistic license taken in direct quotes and venues, Walding confesses to having "a very detailed memory, which is both a blessing and a curse".
His research at the State Library and listening to compilations of music from the 1970s took him back "to an exact place and time that became a very weird and at times emotional experience".
His research revealed Melbourne had 650 venues between 1958 and 1972, "a phenomenon that had never been fully explored".
There was plenty of material covering "pop and rock gods" but nothing about "how things looked from out on the dance floor and how teenagers of the time interacted".
"I also met lots of fascinating and slightly odd-ball people, some were dodgy underworld figures, and others were deranged promoters, or go-go girls, bouncers, musos and punters. As much as I'd like those stories to be heard I don't think it would be wise to put them into print," Walding says.
"The book looks at life growing up in Edithvale and the dances there [Kingston] as well as other venues such as Stonehenge and Shindig and Penthouse."
The relaxing of liquor laws and the emergence of club and pub venues saw the demise of the local dances that bracketed the lives of Walding and his mates.
Even the New Year's Eve lockout at the Great Ocean Road entrance to Lorne is a distant memory.
"They're not like that anymore. The Falls Festival keeps a lot of the kids occupied and there hasn't been a road block down the street in maybe 25 years," Walding says.
Although a long-standing teacher, Walding ran a surf shop in Lorne and another specialising in original vintage beach posters, but now he "just writes or sells posters online".
Walding says The Last Dance has resonated with many readers "fondly remembering" those first, sometimes awkward but character-building times, when a night was counted a success if you were standing next to a dance partner as the last chords faded in the speakers.
"The last dance of the night was the most important in lots of ways. If you hadn't managed a dance by then, the night was a failure."
The Last Dance is now available for $34.95 at Beaumaris Books, Grumpy Swimmer in Elwood, Thesaurus in Brighton and The Avenue Book Stores, Albert Park and Elsternwick.