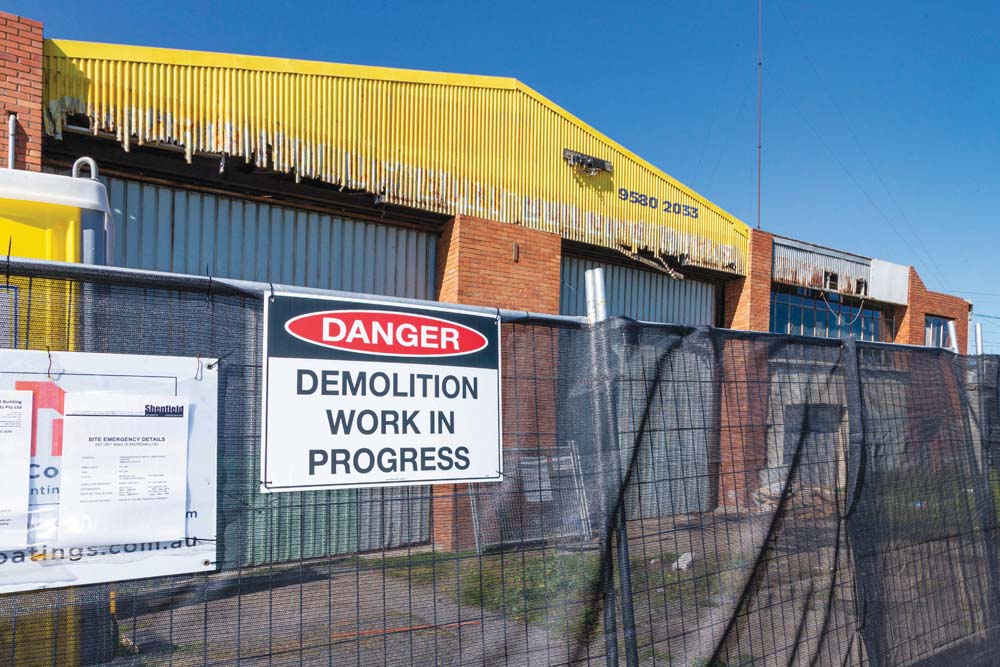 DEMOLITION has begun at the former site of Pompei's Marine Boat Works and Landing in Mordialloc.
The site, on crown land, was sold in December 2017 for $2.85 million. An application was being considered last year for a four storey apartment building with 13 units on the site. Fences went up at the site earlier this month along with danger signs reading "demolition work in progress".
A push earlier this year to have the site heritage listed proved unsuccessful. In May, the Victorian Heritage Council's registrations and reviews committee rejected a proposal to include the boatworks site in Mordialloc on the state's heritage register. Submissions made in objection to the recommendation of Heritage Victoria's executive director to not list the site on the state's heritage register were made by Kingston Council, the Mordialloc District Historical Society, and Leon Pompei, the son of 'Mr Mordialloc' Jack Pompei.
A heritage overlay would have ensured that a planning permit was required to subdivide or consolidate land, demolish or remove a building, construct a building, externally alter a building, construct or carry out works, construct or display a sign, or externally paint an unpainted surface.
The Heritage Council noted in their final determination that "the executive director acknowledged that [Pompei's Landing] has a direct and strong association with Mordialloc and Victorian boating communities and is regarded by the Mordialloc community as a landmark. However, found that while the place has strong associations with boat building and bayside recreation, the ability to interpret these experiences has diminished due to the changed conditions of the place. Further, the social significance of the place does not resonate beyond these communities ("Troubled water for Pompei's heritage push", The News, 29/5/19)."
On 24 June, Kingston Council voted to "encourage the owner of the Pompei boatshed site to consider including in their plans to develop the site appropriate commemoration of the Pompei boat building heritage and if possible incorporate the main boatshed building in the planned building."
The motion was moved by Cr Rosemary West, who said "unfortunately, the building has been sold and it is going to be developed, however the best we can hope now is that council can encourage the landowner to incorporate that building in his proposed future development."
Signs placed at the demolition site featured the logo of property developer Shenfield Property Construction. Questions sent to Shenfield Property Construction about the extent of the demolition works were not answered before publication deadline.
Comment from Kingston Council was also sought, but not received before publication deadline.
First published in the Chelsea Mordialloc Mentone News – 30 October 2019