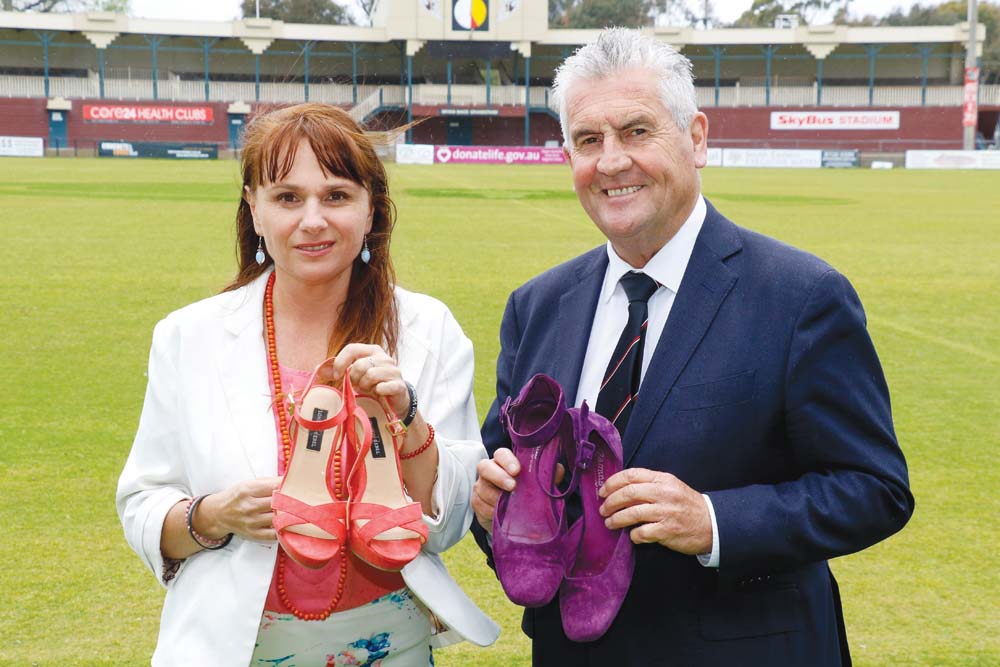 FRANKSTON Dolphins CEO Adrian Lloyd was joined by new Frankston mayor Sandra Mayer at Frankston Park last week to launch the In Her Shoes: Call it Out For Her campaign.
There will be 48 shoes placed on the football oval at an event on 24 November, one for each woman believed to be killed in Australia as a result of domestic violence each year.
In 2017/2018, there were 2,344 family violence incidents reported in the Frankston municipality, with three times the amount of female victims compared to male victims.
Cr Mayer said the gesture at the football oval kicks off "the 16 days of activism against gender based violence." She said that she is "extremely passionate about any campaign which raises awareness about violence against women" having experienced it herself.
"This is an opportunity to reflect on the impact of violence against women and how we can all play a role to stop this from happening by calling out sexism, sexual harassment and disrespect towards women in our everyday lives," she said.
"I'm not just talking the talk, I'm walking the walk too. I've been in those shoes and it's soul destroying. That's why I volunteer my time in the space of prevention and am making it a priority this year. Family violence costs our community $46 million annually and the trauma experienced by victims continues to impact their lives for years to come.
"It's incredibly scary how many women and children are being murdered at the hands of someone they know, it seems like it has become an epidemic when it should be going the other way after all the work done in recent years at all three levels of government.
"Prevention is the key so that these devastating numbers don't continue to climb."
Frankston Dolphins CEO Adrian Lloyd said "if we are serious about ending violence against women, then we must address gender inequality and disrespectful attitudes towards women straight away."
"Here at Frankston Dolphins we are part of a community and we teach our players to be positive role models. Our motto is do what good dolphins do, which includes calling out disrespect and standing up against violence of any kind," he said.
"It's important to bring all people, including men, into the conversation about all forms of family violence and violence against women. We will stand up against family violence against women at any cost."
The football club and council will join forces with Zonta Club Melbourne South East and CWA Peninsula Belles Branch as part of their campaign.