SOCCER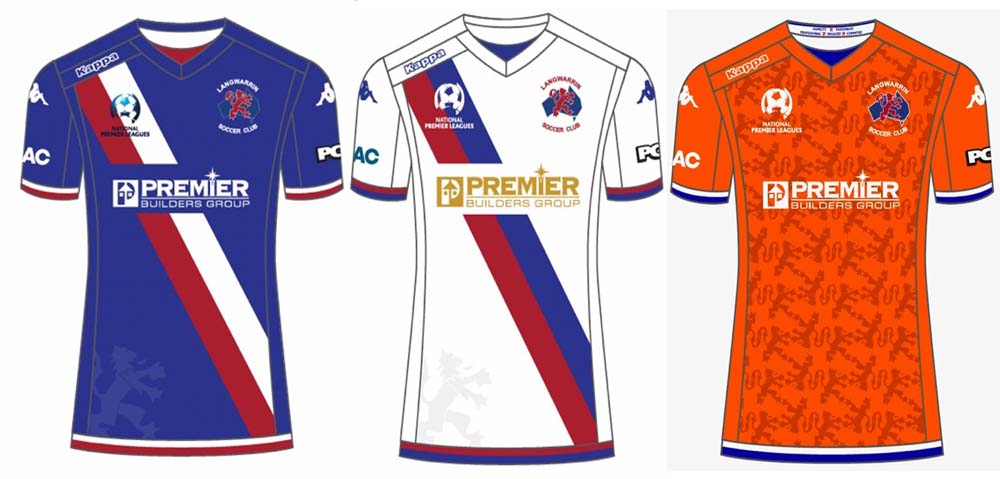 STRIKER Sam Orritt and midfielder Jordan "Kaka" Avraham have agreed terms with Langwarrin.
The duo had been trialling at Lawton Park and were called to a meeting with head coach Scott Miller last Tuesday to be told that they were wanted men.
That triggered negotiations with Langy president Tanya Wallace but Miller was confident that there would be no hitches in the talks.
He was right.
"They've both bought in to what we're trying to do here and they'll both add quality to the squad," Miller said.
"They also bring an intensity to compete which is another positive."
Orritt broke his right collarbone early in Langy's recent friendly against Melbourne Victory but he had the bone pinned last Thursday at Beleura Private Hospital in Mornington.
He flew back to the UK this week and will return to Melbourne on Sunday 12 January.
Another triallist, striker John Prescott, is currently holidaying in the UK and has been invited back to train with Langy upon his return in January.
Miller will have a maximum of 20 players once his squad is finalised but club stalwart Dylan Kilner will be missing after being forced to step aside due to work commitments.
Langy released details of its new Kappa 2020 home and away kit and its goalkeepers strip last week and also discovered that it will play four of its first five league matches at home next season.
The season opener will take place at Lawton Park on Saturday 21 March when the local club hosts Manningham United Blues at 3pm.
The match will be preceded by the under-20s clash at 1pm and on Sunday 22 March the under-18s of both clubs will meet at 2pm at Lawton Park.
Langy then plays Northcote City (home), Moreland Zebras Juventus (home), Werribee City (away) and Moreland City (home).
Meanwhile Southern United's senior coach Melissa Maizels has added another job to her impressive list when it was announced last week that she would play for Heidelberg United next NPLW season.
Maizels is technical director at Mount Martha and co-owns Absolute Soccer academy.
Southern has been included in a new second-tier VPLW competition and plans to play home games on Friday nights but there will be instances when its fixture clashes with Heidelberg's and when that occurs Maizels will line-up for Heidelberg while Southern's technical director Brian Roberts takes over the senior coaching role.
A journalist broke news last week of Heidelberg signing Maizels and Southern posted a comment from her on its facebook page the following day:
"Heidelberg have been incredibly accommodating with this and I want to thank the Southern United community for being so supportive.
"Hopefully I can spend 2020 seeing both my teams achieve success in their respective competitions."
In other news Football Victoria recently ratified the make-up of the 2020 State Leagues when promotion and relegation will again come into play after this year's leagues restructure resulting in a third NPL tier.
State 1 South-East will consist of Beaumaris, Bentleigh United Cobras, Boroondara-Carey Eagles, Casey Comets, Eltham Redbacks, Malvern City, Mazenod Victory, Mornington, Richmond, South Springvale, St Kilda, Warragul United.
Caulfield United Cobras ratified their name change at their November AGM and the club expects to see the completion of new clubrooms next year at its headquarters at Victory Park in Bentleigh.
State 2 South-East will consist of Berwick City, Brandon Park, Collingwood City, Doncaster Rovers, Heatherton United, Knox City, Monbulk Rangers, Mooroolbark, North Caulfield, Old Scotch, Peninsula Strikers, Skye United.
State 3 South-East will consist of Ashburton United, Bayside Argonauts, Brighton, Diamond Valley United, East Brighton United, Elwood City, Frankston Pines, Middle Park, Monash Uni, Rowville Eagles, South Yarra, Whitehorse United.
State 4 South will consist of Baxter, Chelsea, Dandenong South, Dingley Stars, Endeavour United, FC Noble Hurricanes, Keysborough, Noble Park United, Sandown Lions, Seaford United, Somerville Eagles, Springvale City.
State 5 South will consist of Aspendale, Bunyip District, Casey Panthers, Endeavour Hills Fire, Hampton Park United, Knox United, Mount Martha, Old Mentonians, Pakenham United, Rosebud, South East United, White Star Dandenong.
Mount Martha and South East United are newcomers to the State League scene.
Local club Mount Martha is based at Civic Reserve in Mornington while South East United is based at WJ Turner Reserve, Noble Park North.
In State 1 news it's understood that talented teenager Matt Harrington has agreed to join Mornington.
Seagulls boss Adam Jamieson has been keen to sign the Peninsula Strikers' winger for some time.
Jamieson was due to hold talks with midfielder Kane Bentley as we went to press and wants the former Frankston Pines and Langwarrin player to commit to a second season at Dallas Brooks Park.
In State 2 news Peninsula Strikers remain hopeful of retaining experienced defender Danny Black and midfielders Jonathan Guthrie and Alex Whyte while former Frankston Pines and Knox City defender Franco Vanni is rumoured to be on the Centenary Park club's wish list.
In-demand keeper Robbie Acs has been contacted by Strikers but the former Casey Comets and Langwarrin No 1 is yet to decide where he will play next season.
Strikers are also believed to be interested in former Langy under-20s keeper Ben Caballero who was with Box Hill United last season.
Former Mornington wingback Tommy Hawkins may return to Strikers after leaving last season to play with Dingley Stars.
In State 3 news an undermanned Frankston Pines lost 4-3 to Doveton's under-20s in a friendly at Waratah Reserve last Thursday.
Pines were down 2-1 at half-time their goal coming from CJ Hodgson who deftly curled a left-foot shot from outside the area that went in off the inside of the far post.
Hodgson converted from the penalty spot early in the second half but defensive lapses allowed Doveton to add two more goals before Pines midfielder Joe O'Connor had a tap-in to make it 4-3.
Pines featured striker Cole Ryan, 19, ex-Kingston City and Langwarrin who played with Casey Comets last season.
Ioasa Saemo came off the bench in the second half making his return to the Pines line-up after a bad leg break in a car accident in Samoa and provides the club with the option of being used as a target up front or as a central defender.
Josh Simmons also played for Pines so the family could find its allegiances split should Nick Simmons decide on a switch to Peninsula Strikers where he has been training.
Former Pines defender Aidan McLure, 19, who played with Box Hill United last season is back training at Monterey Reserve but was unavailable for the Doveton hit-out.
In State 4 news Seaford United tried but failed to prize defender Simon Webster from Doveton's grasp after recently agreeing terms with his twin brother Scott, a midfielder.
Former Casey Comets, Langwarrin and Mornington attacking midfielder Shane Tagliaferro from Doveton has been linked with the North Seaford Reserve outfit which is understood to be keen to also sign a central defender.
In State 5 news Aspendale last week ratified its coaching appointments for 2020.
Lee Barber will coach the seniors for a second season and his assistant is Thomas Raby who was goalkeeping coach last season.
Tony Guedes has stepped up from under-18s coach to take the reins with the reserves and his assistant is Gregor Macnab.
This is our last round-up for 2019 so to all our readers Merry Christmas and a safe and happy New Year.
We will return on Tuesday 14 January.
First published in the Frankston Times – 23 December 2019