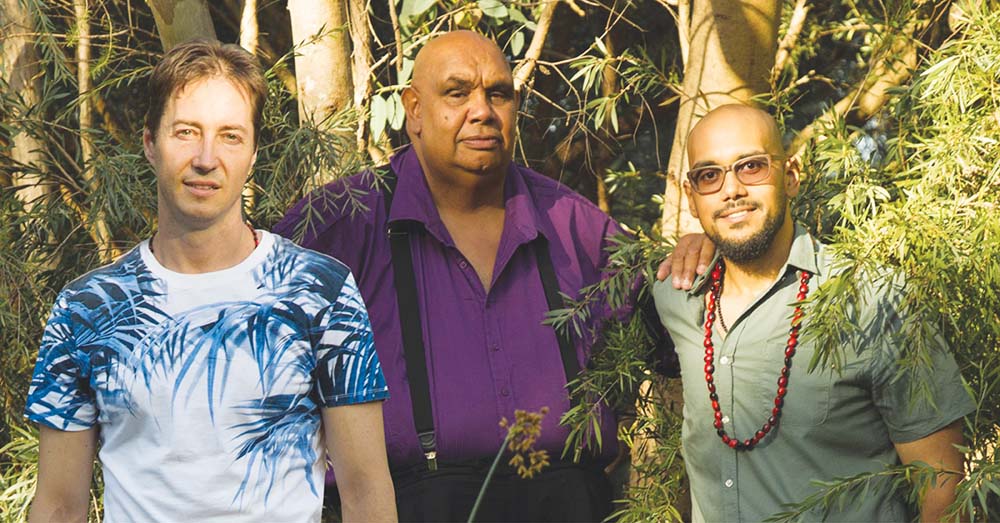 THE Frankston Arts Centre will host a free performance online this week.
A Musical Reconciliation will be live streamed on Thursday, 9 July. The show is led by the group Spirit Lines, which features percussionist Adrian Hearn, Indigenous Australian singer and songwriter Uncle Kutcha Edwards, and guitarist Daniel Jauregui.
Mr Edwards said the work of Spirit Lines when it comes to reconciliation is "like dropping a pebble, a small contribution with tremendous ripples."
The performance will be the third in the Arts Centre's series of online presentations during the COVID-19 pandemic. Between now and 2 August The Black and White Series, by Indigenous multimedia artist Josh Muir, will be displayed at the centre. The artworks can be seen from the street front.
Mr Muir said "I am a proud Yorta Yorta, Gunditjmara man. I hold my culture strong to my heart and it gives me a voice and great sense of my identity."
"I look around I see empires built on Aboriginal land. I cannot physically change or shift this, though I can make the most of my culture in a contemporary setting and my art projects reflect my journey," he said.
The Spirit Lines performance will stream on the FAC Facebook and YouTube pages from 7.30pm, 9 July.
More information at thefac.com.au
First published in the Frankston Times – 6 July 2020