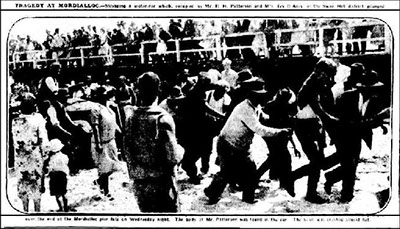 In 1932, two people drowned after their car plunged off the end of Mordialloc pier. The following account is taken from contemporary newspaper reports.
ROYDEN Kennedy Patterson was a wealthy 49-year-old grazier who owned Tammit Station, near Euston, in New South Wales.
He had travelled to Mentone to stay as a guest of his business partner, Selborne Kennon, at his home in Beach Rd, Mentone.
Patterson owned Tammit station in partnership with Kennon. Patterson also was a prominent racehorse owner and with Kennon had the horses David Garrick, Binna, Tammit, Own, and Gudroon.
Mr Patterson had travelled from his property to Mentone on Sunday 31 January 1932. He was joined in Mentone a day later by 40-year-old divorcee Ivy D'Arcy of Swan Hill, who had travelled down with friends and was staying at the nearby Mentone Hotel. Mrs Darcy had left her 18-year-daughter at Swan Hill while she took a holiday.
On the evening of Wednesday 3 February, Patterson borrowed a car from a fellow grazier, Sir H D Leslie who also was staying in Mentone. His intention was to take Mrs D'Arcy for a drive along the bay to Frankston.
On the way back, they met Mr and Mrs Kennon, and Kennon agreed to see Patterson later at Mentone.
When Patterson did not arrive at the Kennon home two or three hours later, Mr Kennon became alarmed. He went to the Mentone Hotel and was told Mrs Darcy had not returned either.
He and Mr Leslie then went to Mordialloc and alerted police, who searched the area. They found wheel tracks leading onto the pier. A sharp-eyed officer saw two abrasions on a plank at the seaward end of the pier that looked like it had been struck by the wheels of a car. The end of the pier was not protected by railings.
In the morning, divers found the car lying on its roof with the hood up and all doors closed in 15-20 feet (4.5-6m) of water near the end of the pier.
Mr Patterson was dead at the wheel of the car, but there was no sign of Mrs D'Arcy.
It was thought that Mrs Darcy, who was sitting next to Patterson, had either jumped or been swept out of the car when it struck the water.
Her handbag and a beret she had been wearing were in the front seat next to Patterson.
Police speculated her body had been carried out to sea.
Initially, police formed the theory it was a double suicide, but this was soon discounted. Relatives of Mr Patterson confirmed he seemed to be in excellent spirits on the day of his disappearance, and although Mrs Darcy was divorced, there seemed to be no reason for suicide.
Police decided it was an accident. It was thought Mr Patterson mistook the pier for a bridge and continued to drive along it, unaware of impending disaster.
The body of Ivy D'Arcy was washed on to the beach at Carrum near the mouth of Patterson River three days later.
A coronial inquest into the deaths was held on 17 February.
After hearing the evidence of many witnesses, the coroner recorded a finding that Royden Kennedy Patterson and Ivy May D'Arcy accidentally met their deaths off the end of the Mordialloc pier late on the night of 3 February or early 4 February.
Evidence was given that it would have been possible for Mr Patterson – having in error turned to the left off Beach Rd when entering Mordialloc from Carrum late at night – to have driven along the pier not knowing it was a pier.
Sergeant McPhee told the inquest there was a signboard near Beach Rd bearing the words "Keep to the left. One-way traffic", which was somewhat misleading. He had heard that other cars had been driven onto the pier by mistake at night.