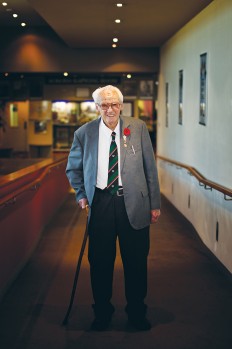 CHARLIE Scales' first attempt to join the army was not a success.
In 1939, aged just 16 and a trainee storeman at Coles in Albury, NSW, he had effectively run away from home to join the militia.
"Poor old mum and dad were demented with worry," he remembers.
"I was on guard duty at Hume Weir when the police turned up and dragged me out of there; they'd been looking everywhere for me."
World War II had begun and he wanted to enlist, like his father Bill and uncle Joe, both of whom had served with distinction in The Great War. In the 1/24th Battalion, they had fought at Gallipoli and on the Western Front in Europe. Both were decorated soldiers and Bill was repatriated after losing his leg during fighting at Ypres in France.
Charlie went home to Corryong in northern Victoria and "started bludging off mum and dad" until they would allow him to enlist.
It seemed a coincidence that in Wangaratta in mid-1940 he joined the 2/24th Battalion.
By the end of the year Charlie Scales was in the Middle East training for the desert warfare that would take the lives of many of his friends in the 2/24th.
"People without training can't make good soldiers," he said from his home in Bonbeach. "It's training that helps you overcome the fear."
The 2/24th Battalion was involved in two of the most decisive battles of the war – at Tobruk, in modern day Libya, where they became known as the Rats of Tobruk, and at El Alamein, on the shores of the Mediterranean in Egypt.
They were battles which halted Rommel's advance into Africa and brought strategic and morale-boosting success at critical times, when the Allied Forces were experiencing heavy losses and setbacks elsewhere.
"The holding of Tobruk was one of the major turning points in the war and El Alamein stopped Rommel getting hold of a deep water port in North Africa," Mr Scales said.
But the price of that success was terribly high and Charlie Scales saw most of his commanding officers and friends die or be badly wounded. He was wounded in El Alamein and recuperated in a British war hospital in Egypt.
"We were pretty professional after Tobruk, but even so, at El Alamein a battalion of 700 went in [to the battle] and only 59 came out on the truck at the end of it."
Private Charlie Scales returned to Australia and joined the elite 1st Parachute Battalion, which trained on the Atherton Tablelands in North Queensland, but the end of World War II came before the crack troop was deployed.
"I was half stupid for a long time after the war," he said. "In those days I'd get on the beer and make a nuisance of myself."
He drifted and worked at different jobs, unable to settle down until he met his future wife Loris at a New Years Eve ball.
"I don't know where I would be without Loris," he said.
The experience of war did not confer indifference on Charlie Scales and he laments the wars and unrest still punishing people in the desert regions where he fought over more than 60 years ago.
"I was at Homs," he remembers. "It's where all the trouble started in Syria recently. It's shocking what's happening there."
A proud member of Chelsea RSL, Mr Scales had a busy Remembrance Day weekend with a 2/24th Battalion reunion in Wangaratta, a function at the RSL and a "terrific party" for his 90th birthday, also on Sunday 11 November.
He shares his story not to glorify or mythologise war.
"I just want to promote the memory of the 2/24th Battalion and the Rats of Tobruk," he said.