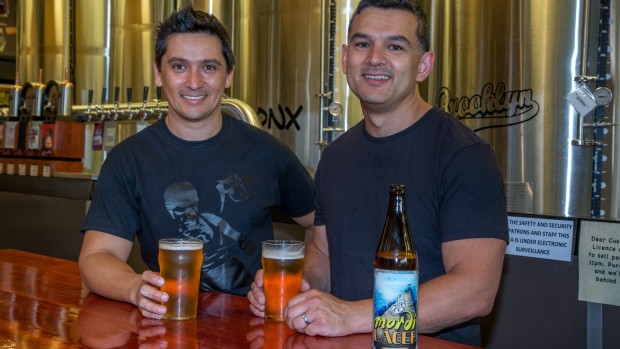 MORDIALLOC now has its own beer. The 2 Brothers Brewery has brewed a limited edition Mordi Lager to be sold exclusively at next month's Mordialloc Food, Wine and Music Festival for the first time.
The Moorabbin-based brewery was founded in 2007 by brothers Andrew and David Ong.
Andrew said the brothers had the idea to start their own Australian commercial brewery on a trip to the US where they saw how popular the craft beer market was overseas.
He said they were keen to get involved with the festival due to close family connections with Mordialloc. The pair's grandparents lived in the town in the 1940s.
"We sourced all the Mordi Lager ingredients from within Kingston," Andrew said. "It was malted at Mordialloc's Powells Malt with the yeast and hops chosen and supplied by Bintani in Mordialloc."
He said the beer was truly "made in Mordi".
It took about six weeks to ferment and brew the Mordi Lager and Andrew said they were taking a little extra time and care to "chill it back" so the taste should be perfect for the festival.
He reckoned festival-goers would love the craft beer.
"It's a pale straw-colored lager beer, light in body, clean and crisp in flavour with a delicate use of traditional noble hops," he said.
Mordi Lager will be sold on tap at the Mordialloc Food, Wine and Music Festival. The 2 Brothers Brewery's hand-crafted beers have earned them trophies for Champion Small Australian Brewery in 2013 and Best Victorian Beer in 2009 and 2010.
The brewery uses raw ingredients from Australia and around the world to forge a range of beer styles from light to dark.
They produce about 2000 litres of beer each week which is sold on tap at independent Melbourne bars and pubs.
The brewery's beerhall at 4 Joyner St in Moorabbin can be visited on Thursday and Friday evenings.
Their beers are served directly from the tank, with fresh pizza also available.
– The Mordialloc Food, Wine and Music Festival hosted by Kingston Council. It is a dog free, no BYO alcohol event. Entry is by gold coin donation.
Saturday 1 March 11am – 10pm
Sunday 2 March 11am – 6pm
Visit www. kingston.vic.gov.au/onlineprogram for further information.