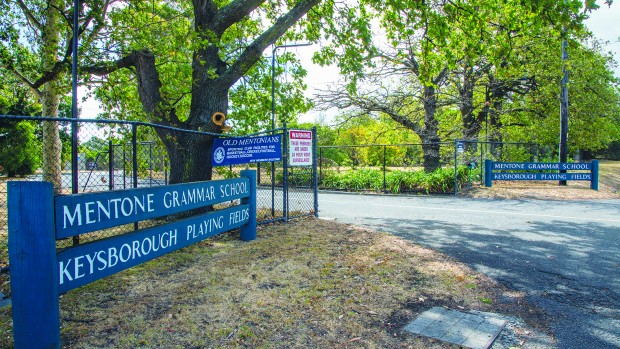 MENTONE Grammar has responded to questions about a bid to rezone its Keysborough playing fields that could open the land up to residential development and earn the school tens of millions of dollars.
The News revealed the elite private school made a submission to Kingston City Council planning consultants Planisphere before the firm made its final recommendations to council about the future use of Kingston's green wedge ('Land plan puzzle', The News, 12/2/14).
Council kept Mentone Grammar's correspondence with Planisphere confidential. Both council and the school have refused to directly answer several questions about the school's submission.
Council initially advised The News that the school's submission was no longer confidential but then declined to release details of the correspondence.
Planisphere recommended the Keysborough playing fields remain within the green wedge, contrary to the school's request to have the land included within the Urban Growth Boundary.
The school sent a letter to "the Mentone Grammar community" last week, signed by chairman Simon Appel and principal Mal Cater, confirming the school had sought to have its land rezoned for either Residential 1 or Mixed Use development.
The letter stated: "This was based upon the school's desire for maximum flexibility for possible future uses of the land in contrast with the current zoning's more limited uses. These extended uses potentially allow for a number of possible improvements to the property such as boarding facilities or classrooms for future learning needs."
However, The News understands boarding facilities and classrooms are currently able to be built on playing field land under existing allowable uses, without the need to rezone the land.
Councillor Rosemary West, who opposes the possible rezoning, said Mentone Grammar could make up to $60m if the playing fields were sold off for residential development.
"This rezoning was not supported by the Planisphere consultants and I can think of no reason why any councillor would support rezoning this land unless they wanted to make money for Mentone Grammar," Cr West said.
Kingston councillors who back the move told The News that the rezoning was "logical" since the land is "under-utilised" ('School's field of dreams', The News, 19/2/14).
Cr John Ronke said Mentone Grammar had spoken to council about selling the land in 2011 and had considered moving its playing fields to Heatherton but that "they might have changed their mind since then".
Mentone Grammar's letter, sent to the families of students who attend the fee-paying school, stated: "…the school believes it is inappropriate to engage in media dialogue about this matter at this time."
The school's land is included in a strip of green wedge land along Springvale Rd between Heatherton Rd and Lower Dandenong Rd which has been the subject of moves by councillors in recent months to ask state planning minister Matthew Guy whether a rezoning allowing residential development is possible.