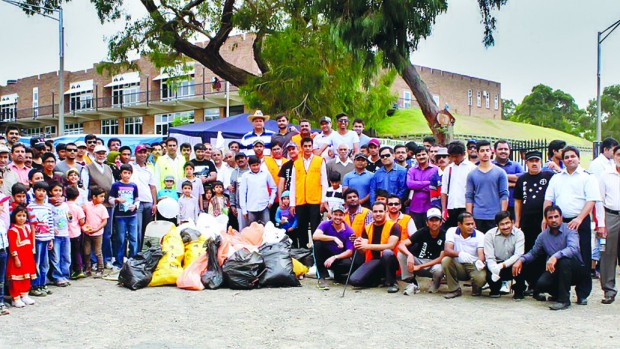 A COMMUNITY project to replant and build a barbecue and picnic area alongside a neglected creek in Langwarrin symbolises the Islamic principles of "personal and societal cleanliness".
A plaque marking the start of the Harmony Creek project in Leisureland Drive was unveiled on Clean Up Australia Day.
The project is being undertaken by members of the adjoining Ahmadiyya Muslim Association's Bait-ul-Salam (House of Peace) mosque, Frankston Council and Melbourne Water.
The mosque is in the renovated former Leisureland Fair amusement park off North Rd.
Bait-ul-Salam is the state's only Ahmadiyya centre with people coming to attend prayers and community functions from Geelong and Ballarat.
On Sunday 2 March, Frankston mayor Cr Darrel Taylor inaugurated the Harmony Creek project by planting a tree on Clean Up Australia Day at the reserve.
More than 200 members of the Ahmadiyya community, neighbours and council officers attended the ceremony, which started with a reading from the Quran by Ahmadiyya Muslim Association Victoria president Javed Safdar Choudhary.
Mr Javed said Islam stressed the need for cleanliness and described it as a part of the faith.
He said Islam also taught harmony, peace and loyalty to homeland, and for all Muslims to obey and cooperate with higher authorities.
The Harmony Creek project was a small example of the Muslim association's cooperation with local authorities and a gesture to show its concern for cleanliness and for the environment.
Cr Taylor said he was "happy and delighted" to begin the project on Clean Up Australia Day.
He said the project aimed to convert the area into a useful urban space, with barbecues, picnic tables and better walking tracks.
Cr Taylor and Mr Javed planted a memorial tree on the banks of the creek after unveiling a plaque.
When announcing the project at the association's annual Australia Day dinner, Cr Taylor described it as "a great news story that will allow the local community here to go jogging around the creek area. I think it's just a great example of how the mateship and giving back comes into play".