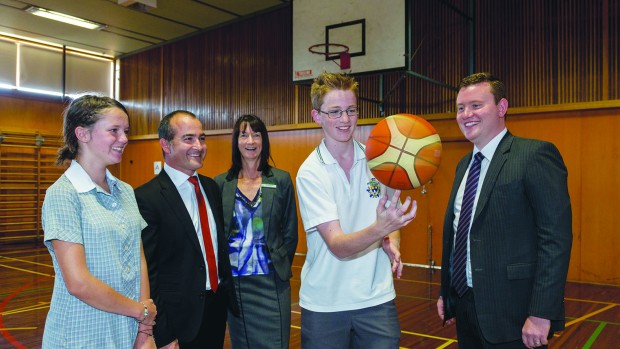 LABOR has fired the first major funding pledge salvo with marginal bayside seats set to become a major battleground at this year's state election.
Opposition education spokesman for education James Merlino joined Mordialloc Labor candidate Tim Richardson at Mordialloc College last Thursday to announce a $4.5 million commitment to build an indoor basketball facility and performing arts centre at the school if the party wins government.
Mr Richardson said local children deserved the best possible educational facilities.
"The basketball facility and performing arts centre will also benefit the Mordialloc community," he said.
Patterson River Secondary College in Carrum will also receive $2 million if Labor wins the state election, mostly to refurbish the school's performing arts centre which is also used by community groups.
Mordialloc College principal Michelle Roberts said the school was grateful for any funding support.
"We've been talking to everyone about the basketball courts and performing arts centre plans and the facilities will be a great asset for community use outside of school hours too," Ms Roberts said.
Mr Merlino said Labor "had listened to parents and teachers" in deciding to make the funding pledge.
"We agree that Mordialloc College students deserve world-class facilities," he said.
Labor also promised to spend $4 million rebuilding classrooms at Sandringham Secondary College's campus in Beaumaris.
Education is set to be a hot topic with voters at the state election.
Premier Denis Napthine and Bentleigh MP Elizabeth Miller announced last week that the Liberal National Coalition state government will spend $7.8 million on buildings upgrades at Coatsville Primary School in Bentleigh as part of a $23 million schools capital works program.
In November last year, federal education minister Christopher Pyne cast doubt on the Abbott government's commitment to the funding, before he quickly back flipped and said the funding was "guaranteed" for the first four years.
Principals are yet to be informed how much individual schools will receive from the Better Schools funding.
Victorian schools' allocations will be distributed by the state government when the federal Better Schools funding is received.