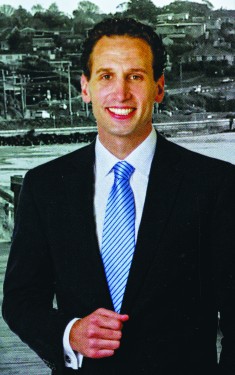 SEAN Armistead has been selected by the Liberal Party to take on independent MP Geoff Shaw and Labor's Helen Constas in the crucial seat of Frankston at the November state election.
Mr Armistead, 37, a manager at Crown casino, won in the first ballot at the Frankston preselection convention held at Frankston Arts Centre on Monday night last week, knocking off rivals Darrel Taylor, Frankston's mayor, and Detective Senior Sergeant Michael Lamb, head of the Mornington Peninsula's crime investigation units.
Mr Armistead's win has shocked many Liberals, who thought Cr Taylor was the frontrunner because of his higher profile in the electorate.
But Mr Armistead had strong support from party powerbrokers, including Victorian senator Mitch Fifield, and was seen to have performed well at last year's federal election.
He ran for the Liberals in the unwinnable seat of Melbourne, attracting almost 23 per cent of votes (and a small swing to the Liberals) when up against the Greens' Adam Bandt with 42 per cent and Labor's Cath Bowtell with 26 per cent.
Bandt won after distribution of preferences, 55.3 per cent to Bowtell's 44.7 per cent.
Mr Armistead's federal campaign was supported by Julie Bishop, Mr Fifield, Scott Ryan, Matthew Guy, Wendy Lovell and Craig Ondarchie.
Mr Armistead joined the Liberal Party in 2007, another advantage over his preselection rivals with Cr Taylor joining in August 2011 but quitting before he ran for Frankston Council in late 2012 and rejoining earlier this year when he decided to throw his hat in the ring for preselection.
Senior Sergeant Lamb told The Times he had been a Liberal voter all his adult life but did not join the party until August 2011.
Mr Armistead is manager of the indigenous employment program at Crown casino in Melbourne.
He co-founded an indigenous internship program in Melbourne, worked at KPMG as its indigenous program manager, at Hewlett Packard, and was an indigenous cadet at the federal Department of Foreign Affairs and Trade in Canberra.
Mr Armistead was born in Darwin where he lived with his father Barry and his mother Jennine – a Ngunga Aboriginal woman – before moving to Melbourne at age 8.
He attended Langwarrin Primary School, the Peninsula School, Mt Erin Secondary College and John Paul College before completing a Bachelor of Commerce at the University of Melbourne.
He has been active in the Liberal Party as a member of the Frankston and Melbourne branches, as chairman of the Melbourne State Electoral Conference, and as a member of the state assembly.
He has worked for the party at all state and federal elections since joining the Liberals.
He is chairman of the board of Worawa Aboriginal College in Healesville.
Mr Armistead told conference delegates last week Frankston would be a key battleground in the lead-up to the election and would attract media attention.
He said he had worked with and learnt from some of the most experienced people in the party, and would build Frankston into a safe Liberal seat.
Senior Sergeant Lamb said Mr Armistead "has my full support and I'll help him win".
Cr Taylor said "the party faithful have made a decision, I support it and wish Mr Armistead all the best".
The mayor said he had enjoyed the preselection process and would not have done it without the support of upper house MP Inga Peulich.
The key to the Liberals winning Frankston is former party member and now independent Geoff Shaw. The Napthine government needs his preferences to guarantee victory in the marginal seat, where Mr Shaw holds a nominal margin of 0.4 per cent after last year's boundary change that saw Labor-leaning Frankston North and Belvedere Park become part of the seat.
A Labor Party insider said Mr Shaw had been very quiet in recent weeks. "Perhaps the Libs have done a deal with Shaw – his preferences in return for a job after he loses the election."
– Geoff Shaw resigned from the Liberal Party on Monday 17 March, four days before the party was expected to expel him. Mr Shaw resigned from the Parliamentary Liberal Party in March 2013.