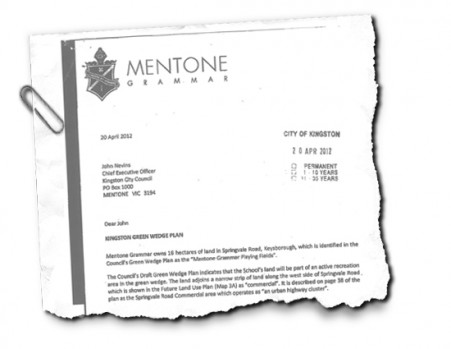 MENTONE Grammar sent a letter directly to Kingston City Council requesting the private school's Keysborough playing fields be removed from Kingston's Green Wedge.
School principal Mal Cater and chairman Simon Appel signed the two-page missive addressed to council CEO John Nevins asking that 16 hectares of sports ground land "be rezoned to facilitate future uses which may include residential development" with lots of 300 to 500 square metres.
The letter, obtained from council by The News under freedom of information laws, stated that an alteration from restrictive green wedge zoning to Residential 1 Zone or Mixed Use Zone was "appropriate" since the Keysborough playing fields attracted "significant annual cost for maintenance" and had "diminishing utility to the school's sports curriculum" (due to transport time and cost).
Council kept Mentone Grammar's letter confidential and has refused to explain why the school's submission was not made public, other than to state the school should be "given the right to provide their views" before any information about the proposal was made public.
No other submission made in 2012 as consultant Planisphere was finalising recommendations for the Kingston Green Wedge Plan was given the same confidentiality by council.
Mentone Grammar principal Mal Cater has declined to comment on the matter but did send a letter last month to the families of students attending the school "to provide information relation to recent local media coverage".
The letter stated the school was considering "a number of possible improvements to the property such as boarding facilities or classrooms for future learning needs".
Lot sizes of 300 to 500 square metres, as requested by Mentone Grammar, would help facilitate residential development on the Keysborough playing fields land.
If the land, currently used as off-campus playing fields by Mentone Grammar, was sold off for residential development, it has been estimated the elite private school could pocket up to $60 million.
Mentone Grammar did not respond to questions from The News before publication about whether it intends to sell off any or all of the land for residential development if planning approval is ultimately given.
A narrow majority of Kingston councillors voted last month to push ahead with an investigation into whether the land – along with neighbouring properties in the green wedge between the boundary of Braeside Park, Southern Golf Club, and Springvale and Governor Rds – could be rezoned for residential purposes.
State Planning Minister Matthew Guy told Parliament last month he had "no intention" of approving "anything" on the land when questioned by opposition planning spokesman Brian Tee ('Guy no intention to rezone wedge', The News, 26/3/14).
Despite the Planning Minister having the final say on any rezoning of green wedge land and his assertion he would not consider such proposals, the council is proceeding with its plan to re-consult Planisphere, council officers and land owners.
Council spent more than $300,000 of ratepayers' money developing the Kingston Green Wedge Plan in 2012.
However, council declined to detail how much further consultations would cost when asked by The News other than to say any legal work involved "would be minimal".
Council said recently passed resolutions to start preparations to rezone parts of the green wedge were "in line with the outcomes of broad community engagement, the independent Green Wedge Plan and as part of council's own decision-making process."
Mayor Paul Peulich said: "Council has not had any discussion with the Minister for Planning; however following the resolution Kingston has commenced discussions with the Department of Transport, Planning and Local Infrastructure and, as is common practice, will seek legal advice."
"After these discussions are held and advice is received, the matter will be presented to councillors to decide whether to proceed with changes to the planning scheme."
Council expected the advice would be put to councillors in the coming months.
The Green Wedge remains a divisive issue among Kingston councillors with many hours of debate at council meetings dedicated to discussions on which aspects of the Kingston Green Wedge Plan should be adopted, mostly split down pro and anti-development lines with no sign of compromise on either side.
Councillors voted last month to develop a 'Green Wedge Communications Plan' in an effort to "better inform the Kingston community and interested stakeholders about Kingston's Green Wedge".