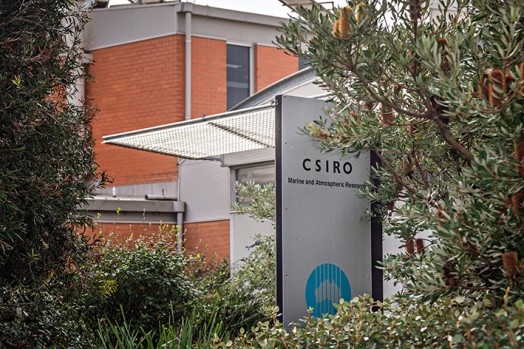 THE CSIRO's laboratories in Aspendale could be shuttered as part of a long-term plan flagged by the scientific research organisation's management, with federal budget cuts also putting pressure on the ongoing viability of the facility.
The Abbott government announced its intentions to slash funding to the scientific research organisation by about $115 million over four years and the Aspendale facilities, where scientists research the effects of climate change, looks like it could be on the chopping block.
Before he was elected prime minister, Tony Abbott infamously said he believed "the so called settled science of climate change … is absolute crap".
CSIRO CEO Dr Megan Clark told staff immediately after the May budget was unveiled that employee numbers would be cut by up to 500. There are 6500 staff employed at more than 57 sites across Australia.
CSIRO Staff Association president Dr Michael Borgas, an air quality scientist based at the Aspendale laboratories, said the site had been listed on internal CSIRO correspondence naming several properties to be closed and centralised to Clayton.
"This has been on the agenda for a long time and it sent an alert to us (staff) making us wonder what was going on," Dr Borgas said.
"We've since been told management is working through the numbers and there has been considerable interest in what this means for Aspendale."
When contacted by The News, CSIRO spokesman Huw Morgan said "no decision had been made" on the Aspendale research facility's future.
He said that the closure of the Aspendale site had been a long-term strategic possibility with the CSIRO's publishing division, based in Collingwood, also earmarked for centralisation to Clayton.
"Science and research will still continue," Mr Morgan said.
The CSIRO laboratories at Aspendale are a hub for marine and atmospheric research. Scientists analyse ice core samples, air quality, pollution and undertake climate and atmospheric modelling research at the Aspendale laboratories.
Dr Borgas, a 27-year veteran at the CSIRO, said the Aspendale hub had a "proud tradition" of conducting research and making a positive contribution to Australia's scientific community.
Federal Labor member for Isaacs Mark Dreyfus opposed any move to shut the Aspendale site.
He said closure would "mean the loss of important research jobs and infrastructure in our local community".
"The Abbott government is savaging our premier scientific research organisation forcing it to shed one in ten staff through $111.4 million in budget cuts," Mr Dreyfus said.
"The anti-science agenda of Tony Abbott will damage Australia's ability to innovate and keep pace with the rest of the world."
He noted CSIRO Aspendale had conducted world leading climate change research for many years.