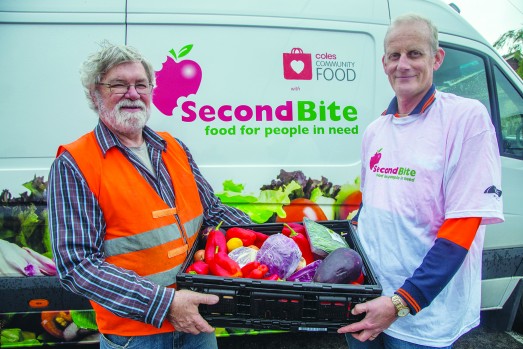 WINTER is the time when we need a hot, nourishing meal to help us through the day. For most of us it's taken for granted, but the sad fact is that many residents simply cannot afford one.
Not without help, that is…
So, the support of organisations like SecondBite is crucial for local food parcel providers Pantry 5000 in Carrum, which helps 400 vulnerable residents and their families each week.
SecondBite last week launched their winter appeal at St Aiden's Carrum where Pantry 5000 is based. Coordinator Ken Gooding said SecondBite was "critical" to our operations.
"Without SecondBite we couldn't operate. We try really hard, with so many families among those we support, to give really good nutritious food.
"We get really good food for kids to take in lunches for school and vegetables which can be cooked in other meals at home."
Many local residents rely on the free food parcels to make it through the week. One single mum of three, said that without SecondBite's help "we would be really struggling to pay for food for us".
"I know my kids eat a lot more fruit and veggies than they would without coming here; I am forever thankful," she said.
But SecondBite can only function with community help, and donations are needed for the 100,000 nutritious meals going to those in need by 30 June.
Pantry 5000 distributes food on Wednesday mornings from St Aiden's Church at the corner of Mcleod and Poulston Rds.
A donation of $20 will help provide 50 healthy meals. To donate phone 1800 263 283.