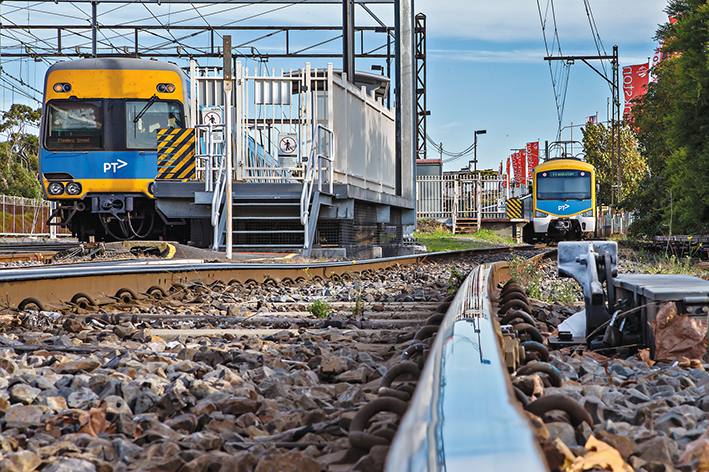 THE state government is being asked to climb aboard a plan to electrify the railway line to Hastings between Frankston and Baxter.
Frankston Council says benefits include being able to stable on the line overnight instead of blocking a third line from Frankston to the city and letting commuters from the peninsula park their vehicles and board at Baxter.
The council wants up to $1 million to help prepare a business case for the estimated $40 million project.
"Everyone would be better served all round," Cr James Dooley told The News.
"The population is growing steadily around Langwarrin and Baxter and many more people are driving all the way to Frankston to commute. With this scenario they wouldn't need to.
"Both Monash University and Frankston Hospital would be accessible by train and those living in Karingal, Frankston Heights and Langwarrin would have transport options and employment opportunities not currently available to them."
He said trains stabled at Baxter overnight would suffer less graffiti damage.
The council is looking for a state government commitment to the project in which the third line running north to the city would be used by express services.
The line is not functioning at the moment and needs to be re-laid in some sections.
"Someone in the past had the foresight to plan for the provision of a third line running much of the way, so we have something to work with," Cr Dooley said.
Cr Dooley said in a council newsletter that a reference to Frankston in the 1959 movie classic On the Beach showed the station looking like the Mentone station of today "rather than the 'industrial brutalism' that we know".
He says dialogue in the film undermines our idea of progress when Anthony Perkins tells Gregory Peck that he lives in Frankston which is "not far away – only 55 minutes by electric train".
Cr Dooley said: "Well, since then, 55 years have passed and it now takes an hour and a quarter. Since 1959, our train service to Melbourne has slowed by 25 minutes."
One thing is the same though: the signal house at Beach St – built in the 1920s – is one of the last remaining manual signal houses in the state.
"It's hard to say why our train service has languished and Frankston along with it. Perhaps it is because the money runs out before it gets too far away from Spring St. That would explain the 1920s signal house."