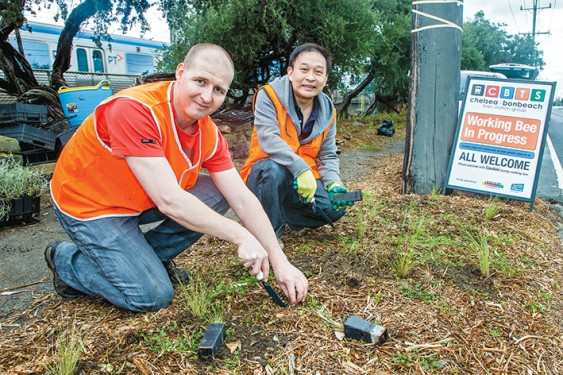 PLANTING shrubs, cleaning off graffiti, picking up litter and even lobbying for a new public toilet in the shopping centre are worthwhile tasks being undertaken by the Chelsea Bonbeach Train Station Group. And commuters are reaping the rewards.
The volunteer group, running for more than six years and with around 20 members, meets each month to plan working bees, arrange supplies and assign tasks. Last Saturday 15 helpers donned their gloves and set to work at Bonbeach station planting shrubs and grasses, cleaning up rubbish and beautifying surrounding areas.
And rail operator Metro was impressed: they put on a sausage sizzle for the helpers afterwards to say thanks.
President and coordinator Wade Ransby said the community work was "really rewarding".
"On Saturday passers-by were saying: 'Wow, that looks great'," he said.
"We've got an active group of all ages – kids and those in their 60s – and we work well together."
Last Friday the group nabbed the assistance of ten helpers from one of the Big Four banks as part of its community volunteer program. Staff members are allowed two volunteer days a year as a way of "giving back to the community".
The Chelsea & Bonbeach Train Station Group also values the help of Carrum Primary School pupils as part of the Big Green Schools initiative. "They come to our working bee and are interested in helping at stations further down the line."
The Chelsea and Bonbeach stations are the "core focus" of the group but their attention will probably be drawn to Edithvale and Aspendale stations which are "looking pretty dismal at the moment".
Carrum MP Donna Bauer and Labor candidate for Carrum Sonya Kilkenny are regular volunteer helpers.
See the group at facebook.com/cbtsg.com.au and website cbts.org.au
New members are welcome to assist on the second Saturday of each month.
There is a calendar on the website and a reminder page on Facebook.