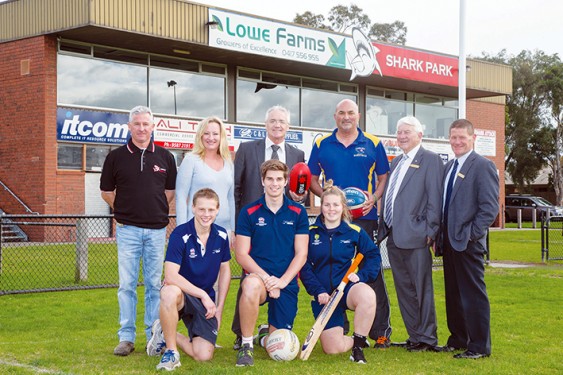 FOOTBALLERS, cricketers and netballers all got a boost last week with a $100,000 grant to redevelop the pavilion at Bonbeach recreation reserve.
The money will provide unisex change rooms, improved umpire, first aid and storage areas, accessible toilets and a lift to access the upstairs community areas.
The pavilion is the home of the Bonbeach Sharks Football Netball Club and the Bonbeach Tangy Cricket Club. Funding is through the Country Football Netball Program.
Sharks vice president Gerard Turville said he was "happy happy, happy" with the funding announcement and that all those associated with the club were excited.
"We've had plenty of consultations and meetings and now, finally, we are getting it," he said.
"It's good for the whole community to have an upgraded building. The former clubrooms were 55 years old and antiquated and this one will be a pleasure to look at."
Minister for Sport and Recreation, Damian Drum, joined member for Carrum Donna Bauer last week to announce the grant.
He commended funding partners the Kingston City Council for committing $2.136 million towards the eight-year project. Stage one of the works are the football, netball and cricket facilities.
"The Napthine Government is committed to a more active Victoria, that's why investments like these are so important," Mr Drum said.
"By building quality sports infrastructure we're providing more sports clubs and communities with stronger foundations to develop their sport and encourage even more local people to participate, making a healthier and more active Victoria."
Ms Bauer said the extra space will allow the 370-strong Sharks to build on their numbers and take their games to a new level.
"Other sports and community groups are also invited to access the pavilion for training, meetings and other community events once the project is complete," she said.
Formed in 1962, the Bonbeach Sharks play in the Mornington Peninsula Football Netball League. They have played nine games this season and are second on the ladder. The netballers have three sides and the cricketers five.
The MPNFL is regarded as the second strongest country football league.
This year the club celebrates the 30th anniversary of its 1984 senior premiership team, and 10th anniversary of the 2004 reserves premiership.
The clubrooms are open on Thursdays from 6pm during footy season for meals.