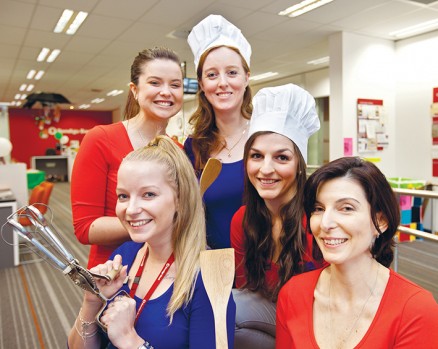 BANKERS will become bakers to whisk up cupcakes and biscuits in aid of a good cause.
Staff at Frankston's Bendigo Bank will host a Bake Off to raise funds for the Starlight Children's Foundation.
Inspired by TV show MasterChef, staff will get cooking as part of Starlight's Community Cooking Challenge. Starlight provides some brightness in the lives of seriously ill children by arranging fun events for their families.
Bank acting manager Kerry Debernardi said the Bake Off was a way for the bank to make a difference to the lives of some Frankston families.
"Raising this sort of money will give sick children special experiences and memories that they and their families can treasure," he said.
Bendigo Bank offices across Australia will participate in the Bake Off on Friday.
Bendigo Bank Frankston will host a Bake Off at the branch at 3-5 Thompson St on Friday 27 June throughout the whole day.
All donations will support the work of Starlight Children's Foundation, with a $20 donation providing arts and crafts to a hospitalised child. Every $6,500 raised grants a child a 'Life Changing Starlight Wish', an experience they will never forget.
"The Bake Off will be a lot of fun so pop in and buy a cupcake or biscuit,'' Mr Debernardi said.
Call Bendigo Bank Frankston on 9770 1644 for full details.