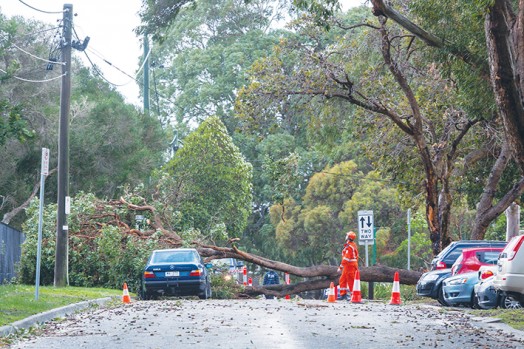 MELBOURNE'S bayside suburbs were lashed by a fierce wind storm on Tuesday that damaged homes, cut power supplies and created havoc for commuters as train services were suspended and major roads shut.
Dozens of trees and power lines were brought down by wind gusts of up to 122km/h as an icy storm front passed across the state's south-east.
Emergency services were stretched to the limit clearing roads, rail lines and homes from fallen trees, branches and other debris, while police were kept busy responding to chaos on the roads, especially after fallen power lines forced the closure of the Nepean Highway between Aspendale and Mordialloc for about three hours in the early afternoon.
The situation went from bad to worse when a number of level crossings between the Nepean Highway and Station Street from Edithvale to Carrum were put out of action by electrical faults.
Things were no better for rail passengers, with trains suspended on the Frankston line between Moorabbin and Carrum in the early afternoon for about three hours after a tree fell onto the tracks at Highett.
Commuters were forced onto replacement buses, further complicating the situation on roads and ensuring lengthy delays for all.
However train services were thankfully restored on the Frankston line ahead of the afternoon peak.
Acting Sergeant Ian Billing of Mordialloc police described the situation as "hectic".
With the highway shut, level crossings failing and numerous traffic lights out, police focused their attention on attempting to restore order to the roads as uniformed officers braved the bitter wind and rain to direct traffic.
More 60,000 Victorian homes were left without power, including 19,000 United Energy customers on the Mornington Peninsula. The State Emergency Services received more than 2000 requests for assistance, with the peninsula the hardest hit region.
Chelsea SES received about 100 calls for help, the majority concerning trees blocking roads, footpaths and driveways, however several houses were also damaged.
"It's been an absolutely crazy day for us and no part of the Chelsea operational area was spared, with jobs coming in from Carrum to Mentone," Phil Wall of Chelsea SES said.
"The wild and windy weather that had been threatening for the past few days arrived with a bang just before 11am, and within 30 minutes we had received 20 requests for assistance.
"At one point, we had three trees down on Station St at Aspendale, all within a 200 metre stretch. Building damage, trees down and trees blocking roads were the order of the day."
One of the more urgent jobs attended by the unit was a in Scotch Parade, Chelsea, where a large tree crashed onto a house.
"The residents weren't at home and we haven't been able to contact them yet, so they'll be in for a horrible surprise when they arrive home to see what has happened," Mr Wall said.
He said the high volume of work meant SES crews had to prioritise tasks, with the number one priority clearing trees blocking roads.
"We'll be working throughout the night and no doubt across the day tomorrow [Wednesday] to clear the backlog of jobs, so we'd ask people to be patient."
The SES has also advised people not to get onto roofs or attempt to repair damage if it is not safe to do so, and to secure loose items in surrounding areas and not park under trees if avoidable.
Members of the public can call the SES on132 500 to report damage, or 000 in an emergency.