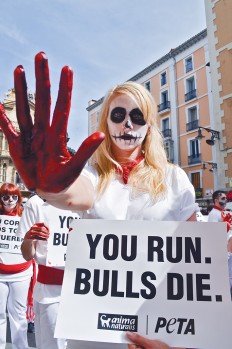 FRANKSTON South woman Hayley Crick last week joined hundreds of thousands of thrill-seekers from around the world in the Spanish town of Pamplona for the annual Running of the Bulls.
But unlike the vast majority of visitors celebrating the week-long San Fermin festival, the 23-year-old former Flinders Christian Community College student, took to the cobbled streets of Pamplona to protest the "cruel" practice of bull fighting.
Ms Crick, a trained mid-wife, joined a demonstration organised by People for the Ethical Treatment of Animals (PETA) UK and the Spanish group AnimaNaturalis to raise awareness of the brutal reality behind one of the world's most popular festivals.
"Many people don't realise that the bulls who are tortured in Pamplona's bullring during the festival of San Fermín are the same ones who earlier in the day slipped and slid their way down the town's narrow cobblestone streets," she said.
"Each bull used in a fight is speared, stabbed and weakened until, finally, a matador attempts to sever the exhausted animal's spine with a dagger.
"Sometimes, the bull drowns in his own blood before the dagger comes into play.
"Other times, he's still alive as his broken, bleeding body is dragged out of the arena and left to await slaughter."
She said the San Fermin festival, which attracts hundreds of thousands of visitors each year, including hundreds of Australians, helped finance and promote Spain's "barbaric" bullfighting industry.
Bullfighting has been on the decline in Spain for many years, with attendance decreasing and bullrings closing across the country, Ms Crick said, adding that the industry survived only because of "huge subsidies"and tourists who "unwittingly fuel the abusive events".
"Tormenting and butchering animals can never be justified as entertainment," Ms Crick said. I'm happy to do whatever I can to expose the cruelty of the Running of the Bulls and bullfighting."
Dozens of visitors are injured each year while taking part in the Running of the Bulls through the narrow cobbled laneways of Pamplona.
However the festival continues to grow in popularity, especially among young thrill-seeking travellers who regard it as an essential "bucket list" event.
Ironically enough, one of the casualties of this year's event was an American who co-wrote a guidebook called Fiesta: How To Survive The Bulls Of Pamplona.
The author, Bill Hillmann, 32, was gored in the thigh by a monster 600 kilogram bull, festival officials said.
He was taken to hospital for treatment, along with five others, including two Spanish men whose injuries were described as "serious".
The bull runs are the highlight of the annual festival, which became world-famous with the publication of Ernest Hemingway's 1926 novel The Sun Also Rises.
There have been 14 deaths at the festival over the past century, the most recent being in 2009 when a 27-year-old man from Madrid died after being gored in the neck.