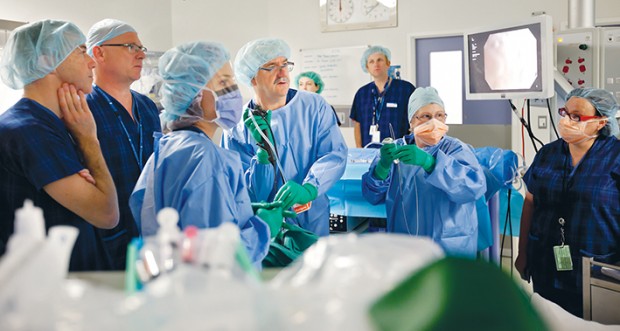 SURGERY to ease the suffering of long-term asthma sufferers is now available at Frankston Hospital.
It is the first time surgery to reduce the effects of asthma attacks on chronic asthma sufferers for whom traditional medications do not work has been offered in Victoria.
Peninsula Health's director of thoracic medicine, Professor David Langton, performed the procedure for the first time last week while accompanied by Harvard professor of medicine, Dr Armin Ernst, who pioneered the procedure.
The bronchial thermoplasty procedure involves inserting a bronchoscope, or small tube, down the patient's airway and into their lungs whilst they are under anaesthesia. A heat probe is then used to treat the muscles that cause bronchospasm.
"By weakening these muscles they will no longer be able to cause wheeze and asthma attacks," Prof Langton said.
Debra Clarke is one of two patients for whom Professor Langton will be performing the surgery on for the first time.
The 53-year-old mother of three has spent suffering from the effects of asthma since being diagnosed at 15 months of age.
"I've had asthma for as long as I can remember and nothing has ever been able to relieve the constant wheeziness. I've never been able to be as active as I want to be. I never played sports. Even in school I used to hide my head in my bag to take my puffer for fear of being labelled as not normal," Ms Clarke said
As a chronic asthma sufferer she has spent her life on medication to try and relieve the constant heaviness in her chest.
"I've had all the traditional medication and tried all the experimental trials I could, including going onto chemotherapy medication.
"I am now at the point where the constant use of cortisone steroids is having a significant toll on my body. My hair is thinning, my skin is weak and I am constantly covered in bruises. I have had to give up so much of my quality of life including my job because of my asthma.
"One of the side effects of the use of steroids to treat asthma is getting diabetes. My dad, who was also a chronic asthma sufferer, passed away from steroid induced diabetes at 59. I really don't want that to happen to me."
Ms Clarke hopes the surgery will reduce her reliance on the cortisone steroids, minimise their effects on her body, and reduce her risk of getting diabetes.
"Within six months I'm expecting to see my quality of life improve dramatically," she said.
"I'm just looking forward to doing those things we take for granted like breathing and walking with ease and without the fear of suffering an attack."
The bronchial thermoplasty is only available for patients following a specialist review. Patients must have severe and persistent asthma that is not well controlled despite taking currently available medications.
Since the procedure was approved for use in Australia by the Therapeutic Goods Administration in 2013 it has been performed on less than 20 patients in hospitals in Adelaide, Brisbane and Perth.