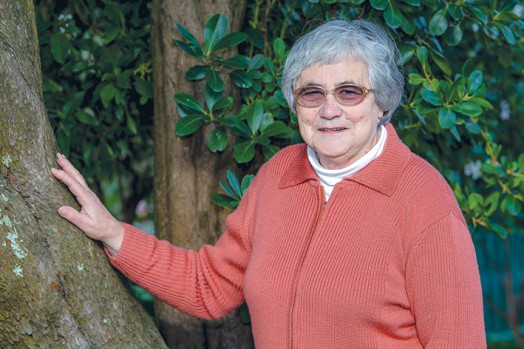 LOOKING for "something worthwhile" to do to help the community first attracted Langwarrin's Marie Wright to volunteer at the former Citizen's Advice Bureau in Frankston.
Now – 45 years later – she thinks it might be time to take a break.
Mrs Wright, who celebrated her 80th birthday and retirement from the now Community Support Frankston yesterday, said she had received "so much satisfaction" from her part-time role as well as making many friends.
After five moves and three name changes since 1970 she says the service is working better than ever and admits she is sad to go. "But it's time," she said. "I'm not as alert as I was and don't follow things as quickly."
After completing her training she became an interviewer at the CAB and, later, was asked to organise the interviewer's roster, which acting agency manager Steve Phillips admits "can be difficult, especially during the winter months when people are ill or on holiday".
"But, somehow, she managed to keep her sanity and good humour and is admired for the way she copes with an increasingly difficult situation," Mr Phillips said.
He said Mrs Wright, by her nature, had garnered support and co-operation from other volunteers.
"When a volunteer is asked to do an extra shift, it seems often only one phone call is necessary.
"Marie has pretty much worked on the Monday afternoon shift for 45 years. She always appears calm and is never fazed by the things she hears from the people presenting."
Mrs Wright was made a life member of the organisation in 2000 for her outstanding service.
She is known affectionately as the Egg Lady – for bringing in eggs from her chickens for the staff to buy – and is also involved in her local church.
She and husband Keith spend time each year travelling in their caravan to various places around Australia visiting family on the way. She has four children and seven grandchildren.
Staff at Community Support Frankston, at 35 Beach St, yesterday gathered to wish her a happy birthday, say goodbye, and praise her contribution to the service which has been providing much needed information and assistance to residents in need since 1968.
Special projects coordinator Marion Lester described Mrs Wright's contribution to the organisation as "whopping".
"She's been a wonderful interviewer and roster supervisor – and a lovely person. We would like to formally acknowledge the work she has done for us. We will miss her but we wish her well."