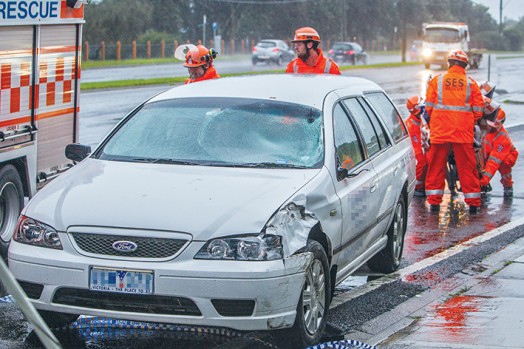 AN elderly man was hit and killed by a car while standing next to his wife by the side of the Nepean Highway at Frankston on Thursday (31 July).
Police said the elderly couple had been driving south on Nepean Highway before parking their vehicle opposite the beach near the bottom of Olivers Hill just before the incident occurred about 12.15pm.
The man and woman were standing to rear of their car, possibly waiting to cross over the road, when a white Ford station wagon "veered off the road and struck the man", police said.
Their car, which was parked in a parking lane beside the highway, was also clipped by the vehicle.
The man was thrown onto the bonnet and windscreen of the vehicle before landing on the road about 20 metres away.
Paramedics arrived shortly after the incident and attempted to revive the man, but he was pronounced dead at the scene. The woman was not injured but was treated by ambulance paramedics for shock.
The driver of the station wagon, a 31-year-old man, stopped at the crash scene and is assisting police with their investigation.
The highway was closed for more than five hours as major collision investigation unit officers assessed the crash site.
Investigators have asked for anyone who witnessed the incident to contact police through Crime Stoppers on 1800 333 000 or www.crimestoppersvic.com.au
Six days earlier, a 46-year-old woman was seriously injured in a hit and run incident after being struck while riding her bike on the Nepean Highway in Frankston.
The 46-year-old woman was cycling south in the left hand lane of the highway about 10.55am on Friday 22 July when she was hit outside Dan Murphy's liquor outlet between Ross Smith Ave and Wells St.
Police said a Holden station wagon suddenly veered from the middle land of the highway across her path causing her to collide with the side of the vehicle.
"The driver then turned into the car park without stopping, before driving off towards Key St," a police spokesperson said.
"Bystanders attempted to chase the driver on foot but with no success."
The Frankston woman was taken to The Alfred in a serious condition with suspected spinal injuries.
Detectives from the Frankston crime investigation unit investigating the incident have appealed for the driver involved to come forward.
Witnesses described the vehicle as a late-model white Holden commodore station wagon.
Anyone who witnessed the incident or who may have information on the whereabouts of the Holden or its driver is urged to contact Crime Stoppers.