A 91-year-old war widow is set to be reunited with priceless family heirlooms including medals and a Second World War service photograph of her husband thanks to some sharp detective work by Frankston police.
A Frankston drug squad detective noticed a display of medals and war memorabilia in the lounge room of a Frankston North house while executing a search warrant on an unrelated matter last week.
The framed collection, right, contained a photograph of flight rigger Robert Headlam, his Second World War medals, including an Australia Service Medal, Pacific Star, War Medal and Star, identification tags and Royal Australian Air Force statements of service and discharge.
Also in the frame were three medals belonging to Mr Headlam's father, Guy Headlam.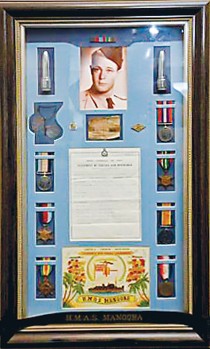 When questioned about the origin of the heirlooms last Wednesday, a resident of the house admitted he was not a relative of Mr Headlam and had acquired the collection years earlier from a deceased estate.
Detective Senior Constable Paul Roberts said he realised the collection would hold significant value to Mr Headlam's family, and vowed to try to find any surviving relatives.
While the current owner was not accused of improperly acquiring the collection, he agreed to hand them over if relatives of Mr Headlam could be found.
"We made an agreement with the man that if a surviving relative or friend could be found, then the man would hand over the frame containing the medals," Detective Senior Constable Roberts said.
"We made some calls and discovered that the wife of the deceased rigger was living in Queensland.
"She was very relieved we had found her husband's medals. They meant a lot to her but she'd given up hope of seeing them again."
She told Detective Senior Constable Roberts the medals had been in the care of her nephew but had been lost when he died several years ago.
Police contacted Frankston RSL to help reunite Mrs Headlam with the precious heirlooms.
Frankston RSL president Brent Clyne said a local freight company, Pack and Send, had agreed to help transport the collection to Mrs Headlam.
"It's her 92nd birthday next week so this will be a fantastic present for her," Mr Clyne said. "We'll be working with police and the Pack and Send to make sure they get to her in time."