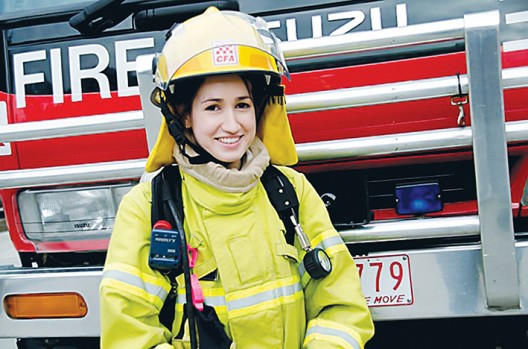 SHE might be only 21, but Langwarrin law student Allie Guegan is already something of a veteran in the volunteer firefighting ranks, not only having battled numerous blazes since joining the CFA at the age of just 18, but also representing the group at international conferences.
Despite the pressures of studying law full time at university, Ms Guegan said she couldn't be happier with her decision to follow in her father's footsteps to serve the community with the Langwarrin CFA unit.
She described her two years with the unit as "life changing".
"The feeling you get when you're able to help someone or even possibly save their life – it's difficult to put into words," she said.
"Even when we go to simple jobs, it's nice to know that people really appreciate what we do."
On top of a demanding study schedule for her law degree, regular CFA training sessions and call outs to active fires, Ms Guegan is now expanding her role with the community organisation in the hopes of encouraging other young people to join the volunteer ranks.
She has been selected as one of 15 young volunteers from across Australia to attend the International Association for Volunteer Effort conference in Queensland next month.
"I'm really excited to have the opportunity to share my ideas and brainstorm ways to get more young people involved in volunteering," she said.
The conference, to be held September 15-17, will see the group pitch their ideas to volunteers from around the world as well as Australian representatives in emergency services.
"To think our ideas could potentially influence various agencies across Australia and even the world is pretty incredible."
During her time with the brigade Allie has been involved with the Hazelwood Mine fire; she's been sent out with strike teams; and has attended various house fires in her community.
With the encouragement of her Captain Sean Curtin, Allie attended a youth forum earlier this year where she was invited to share her thoughts and ideas with other young volunteers.
"Our job was to come up with ways to better engage young people with emergency service volunteering positions," she explained.
The success of that work caught the attention of the International Association for Volunteer Effort, with the entire group invited to next month's conference.
Ms Guegan is also looking to make the CFA more attractive to and supportive of young volunteers with a plan to create a "youth council" within the organisation.
"It would be a place for all young CFA members from across the state to come together to discuss ideas and support each other," she said.