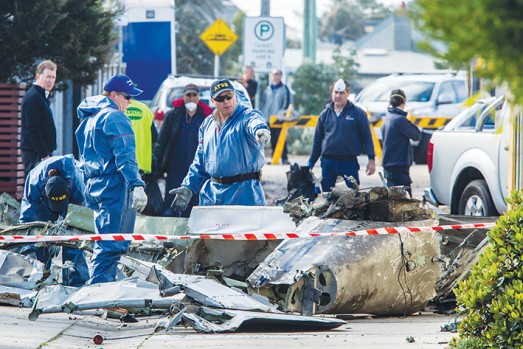 ACCIDENT investigators have wrapped up the on-scene phase of their probe into the crash of a homemade plane into a Chelsea house which killed the pilot last Tuesday afternoon ('Plane crash chaos', The News 15/10/14).
The Australian Transport Safety Bureau deployed three investigators, specialists in aircraft operations and engineering, to the accident site at the corner of The Strand and Camp St.
The pilot, John Francis Stephenson, of Hampton East, aged 77, died when his Van's RV-6A fell from the sky at about 1.30pm on Tuesday last week.
The pilot of 40 years was highly regarded for his skills. He built the plane in 1999.
His last flight out of Moorabbin airport was expected to last only a few hours and he was reported flying south along the foreshore before the plane's engine malfunctioned.
Police, SES, CFA, ambulance officers and confused onlookers rushed to the crash scene to be confronted by scattered debris and smoke from the plane which was wedged between a house and a shed.
Mr Stephenson's devastated family took time last week to express their relief that injuries to those on the ground had been avoided.
His family issued a statement advising they were "shocked and shattered" at the tragic accident.
"We are extremely grateful that no one else was seriously injured in this accident."
"He was a very experienced pilot whose enthusiasm, energy, and optimism for life was enjoyed by all who knew him."
The statement added: "John was a loving husband, treasured father of four and inspirational grandfather who will be greatly missed."
The investigators spent three days examining the wreckage, engine, pilot records, maintenance logs, weather conditions, and interviewing witnesses. They then handed back responsibility of the site to local police.
They took back to Canberra a number of aircraft components for detailed technical examination. This included sections of the flight controls and one wing, including several GPS units and an engine monitoring unit.
A report by the Australian Transport Safety Bureau on amateur-built aircraft for the period 1988-2010, seen by The News, offers an insight into amateur assembled planes' safety.
During the past 30 years, it states, there has been significant growth in the number of amateur-built planes, designed for personal use, from an original design, established plans or kit.
Accident data compared accidents involving amateur-built aircraft and those of similar factory-built aircraft to help identify whether the rate and types of accidents differed between the two groups.
The ATSB found amateur-built aircraft had an accident rate three times higher than comparable factory-built aircraft conducting similar flight operations.
The fatal and serious-injury-accident rate was more than five times higher in amateur-built aircraft, in particular due to relatively more serious-injury accidents.
The pilots of amateur-built aircraft involved in accidents were significantly more experienced overall than factory-built aircraft accident pilots. However, they were significantly less experienced in flying that type of aircraft when they crashed.
Over half of the accidents were caused by mechanical events – mainly complete or partial engine failures. Following the amateur-built phase one test period, mechanical failures were still significantly more common than in factory-built aircraft.
A quarter of accidents were from "loss of aircraft control". Structural failures were not common precursors of amateur-built aircraft crashes.
Crash and forced-landing accidents were more frequent in amateur-built aircraft. Crash and hard landings, and runway excursions, were more likely to result in serious injury from an amateur-built aircraft accident than from factory-built plane accidents.
First published in the Chelsea Mordialloc Mentone News